#1
Re. Return to Work after Suspension from Office w.r.t. Order 2090-ST
Dear Noah, this letter has been written with the best wishes for your health. I am writing this letter in the direction of higher authorities in the wake of suspension orders no. 8C-0 suspending Mr. Noah for a period of twelve days on the account of violent behavior and misconduct with Marketing Supervisor Mrs. Emily Dover. This letter asks Mr. Noah to get back to the work as it completes his duration of the suspension.
According to the R/L Report, Mr. Noah was found guilty of violent behavior in the office with the staff of the Accounts department on salary issues. Later he was found guilty of a misdemeanor with his immediate supervisor Mrs. Emily. Emily had complained to the administration about his misconduct and use of foul language in the office. She extended her complaint by telling the authorities that Mr. Noah had been texting her to threaten her.
This workplace is not immune to violent behaviors and cannot let such issues grow or sustain. Harassment is one of the most unbearable crimes in the workplace and we do not let anybody stay in the office that is guilty of these offenses. On the emphasis of Human Resources and looking at the performance review of Mr. Noah, it was decided to suspend him for twelve days as a reprimand. In these twelve days, the Suspension Policy of the office applies to his off-work period.
Now it has been confirmed from the Department of General Administration that Mr. Noah can get back to the work as he has completed his suspension period. The return to home can be implicated after getting an approved letter of NOC from the General Administration. An official complaint behavior is expected from him. Moreover, it is to be clarified that no further offenses shall be entertained with suspension but termination. Thank you.
Regards
Hellen Easter
General Manager
Lockhouse Denmark Tech Group
G-101 Lilacs Heights, Boston
CA, USA.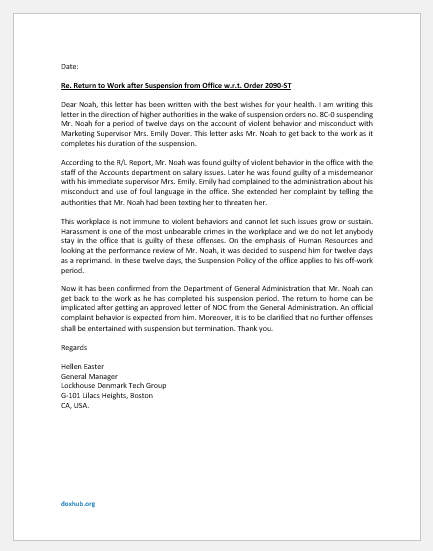 #2
Re. Return to Work after Suspension Orders w.r.t. Suspension Letter 10C-FV23
Dear Keller,
The letter has been penned to you to confirm your return to the office after voluntary suspension from the work on the account of health issues. I am writing this on behalf of the Senior Admin Officer and as per his instructions; you are requested to get back to work on completing your suspension duration.
You had taken voluntary suspension from the work because of your health issues after working from home for a considerably long time with respect to the company's suspension policy 2020. The duration of suspension was two months i.e. from 25th March 20XX to 25th May 20XX. This suspension time would be considered as a temporary leave with 70% salary and other facilities along with 100% medical and health insurance.
Please let me know about your availability by confirming your return to work. I hope you are in good health and able to get back to work. Your suspension time completes on 25th May 20XX therefore, we are expecting you at work on 26th May 20XX. You can respond by writing to me at [EMAIL] or call me at +1[X].
Provide your medical fitness certificate at the time of your return. Thank you in anticipation.
Regards
Castin Steward
Assistant Manager
I-SAPS Group
G-901 Premium Business, 4th building
Simon Road, Boston, CA, USA.