#1
Endorsement letter for staff training
I am writing this letter to extend my full support for the staff training program organized by the HR department under the headship of Mr. XYZ. I appreciate the initiative taken by him as this training will result in improved performance and enhanced productivity of the company's staff members.
Continuous learning is extremely important for the overall growth of any organization. It is for this purpose that I fully endorse the said training. It will aim at enhancing the skills of our staff members so that they can fulfill the company's business goals in a more efficient and effective manner.
I encourage all our staff to attend this valuable training program which is going to be held from (date) to (date). It will be beneficial for the career development of each employee.
Please feel free to contact me in case you need additional information.
#2
Confirmation Letter for Staff Training
I am delighted to inform you that your participation in the upcoming XYZ training program has been confirmed by the HR department. It is a great opportunity for you to further develop your professional skill sets and enhance your work performance.
The one-week training program will be held in Lahore from Monday, 25th November. The program will focus on Health and Safety Management in the construction sector. The knowledge imparted in this session will be extremely valuable for your role as the Health and Safety Manager in our organization.
The company will make arrangements for your tickets and stay in Lahore. You are to visit the training venue according to the provided schedule for the program. Kindly observe punctuality throughout the session.
Feel free to contact me for your queries or additional information about the training session.
#3
Training Acknowledgement Letter
I am writing to acknowledge the completion of your one-week XYZ training program. The company appreciates your efforts towards enhancing your professional skills and congratulates you for receiving your training certificate.
This training program has improved your skill sets and imparted knowledge about new trends in the industry. This will help you enhance your overall performance for our organization so that we can beat our contenders.
I encourage you to continue with your professional growth by availing the of opportunities to learn and improve. Keep working hard to improve the quality of your performance and your overall productivity.
Once again, you are congratulated for the successful completion of your training program. I appreciate your dedication and commitment to your work.
#4
Request Letter for Staff Training
I take this opportunity to request the approval of staff training for the Quality Control Department. This training program will be aimed at enhancing the knowledge of the participants about effective quality control measures that can help our organization improve its overall performance.
The training program will be held in the 2nd week of November at our Head Office in Islamabad. Employees from the relevant department will attend the training to enhance their skills and knowledge.
Please find attached a detailed outline regarding the objectives of the training session as well as the proposed budget. I am confident that this training program will result in a positive change in the performance of our employees.
I look forward to your response. Please feel free to contact me for further details.
#5
Staff Training Cancellation Letter
We regret to inform you that the XYZ staff training program that was scheduled for (date) has been canceled due to financial constraints. The company apologizes for the inconvenience caused by this sudden cancellation.
I understand how important this training session was for your team. However, the company is currently facing certain financial issues and needs to work on its budget allocation. As soon as the company has streamlined its budget, your training program will be rescheduled.
We value your commitment to continued learning and growth. You shall soon be provided with the opportunity to enhance your professional skills and knowledge. We assure you it will be a productive and valuable learning experience for your team.
Please feel free to contact us for further information. We thank you for your understanding and cooperation.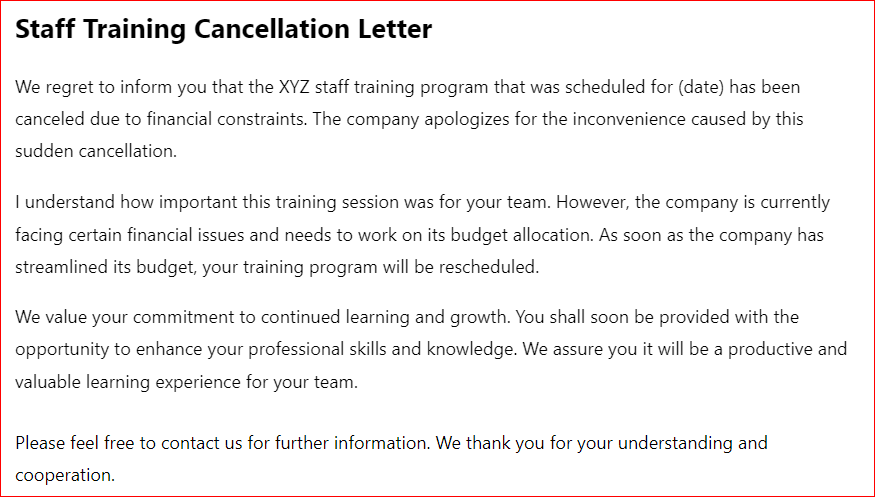 #6
Training Acceptance Letter by an Employee
I am writing to express my gratitude for offering me the opportunity to attend the upcoming Management Training session scheduled to be held on (date) in Karachi. I am delighted to accept the offer and would like to avail this opportunity to further enhance my professional skills and knowledge in this field.
Further, I assure you that I will make the most of this opportunity. I am eager to learn through this training session and improve my skills and productivity at work. This is not only going to be beneficial for my personal growth, but I will also be able to improve my performance to achieve the company's work goals.
I thank you once again for selecting me for this valuable training program. I look forward to attending the session.