Offer letter for rent of a property
I am writing this letter with reference to your apartment 1002, 5th Street, XYZ Road, Manhattan. I work as an assistant at a dental clinic located two blocks away from the apartment. The proximity of the property to my workplace makes it an ideal place for me to live. I would, therefore, like to rent the apartment for a period of 4 years with (amount in dollars) per year as rent.
Kindly let me know if you are interested in my offer. My contact number is 09123456. I look forward to your call.
Offer letter to lease commercial property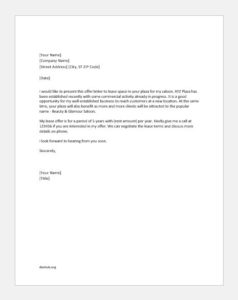 I would like to present this offer letter to lease space in your plaza for my saloon. XYZ Plaza has been established recently with some commercial activity already in progress. It is a good opportunity for my well-established business to reach customers at a new location. At the same time, your plaza will also benefit as more and more clients will be attracted to the popular name – Beauty & Glamour Saloon.
My lease offer is for a period of 5 years with (rent amount) per year. Kindly give me a call at 123456 if you are interested in my offer. We can negotiate the lease terms and discuss more details on phone.
I look forward to hearing from you soon.
---
Application letter for land acquisition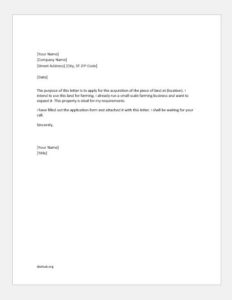 The purpose of this letter is to apply for the acquisition of the piece of land at (location). I intend to use this land for farming. I already run a small-scale farming business and want to expand it. This property is ideal for my requirements.
I have filled out the application form and attached it with this letter. I shall be waiting for your call.
---
Letter requesting land for farming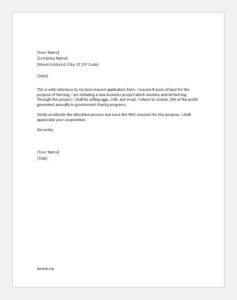 This is with reference to my land request application form. I require 8 acres of land for the purpose of farming. I am initiating a new business project which involves animal farming. Through this project, I shall be selling eggs, milk, and meat. I intend to donate 10% of the profit generated annually to government charity programs.
Kindly accelerate the allocation process and issue the NOC required for this purpose. I shall appreciate your cooperation.
---
Travel agency business proposal
The purpose of this letter is to inform you that XYZ Travels Ltd. is our new venture with a number of lucrative travel packages. We would like to make an offer to your prestigious organization -ABC Hotel- for establishing collaboration with our travel agency.
Since ABC is a countrywide popular name, it will be an honor to be associated with you. We would like you to promote our agency through recommendations and brochures provided by us. For every client we receive from you, we will share 5% of the profit with ABC.
We have attached a copy of the contract conditions and other details. Kindly let us know if this proposal interests you. We shall be waiting to hear from you.
---
Travel agent introduction letter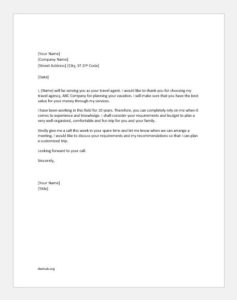 I, (Name) will be serving you as your travel agent. I would like to thank you for choosing my travel agency, ABC Company for planning your vacation. I will make sure that you have the best value for your money through my services.
I have been working in this field for 10 years. Therefore, you can completely rely on me when it comes to experience and knowledge. I shall consider your requirements and budget to plan a very well-organized, comfortable and fun trip for you and your family.
Kindly give me a call this week in your spare time and let me know when we can arrange a meeting. I would like to discuss your requirements and my recommendations so that I can plan a customized trip.
Looking forward to your call.