It is my pleasure to write this reference letter for [NAME] who has served ABC School System for 6 years as grade 8th science teacher. As the Head of the school's primary branch, I have worked closely with [NAME] and have seen her work hard at her job. She is an excellent instructor and her students have been learning well with her. Her kind nature, patience and the ability to engage her students in her lessons are some of the most valuable qualities that make her worthy for her role as a teacher.
Since [NAME] is relocating with her family, she must leave the school. It is going to be a loss for us as she has been a significant part of our system. Although the school regrets this loss, I am sure [NAME] will be a great asset to the institute she serves next.
[NAME] is diligent and hard working. She puts a great deal of effort into planning and preparing her lectures and lessons. During her class, she uses different media of instruction including placards, multimedia and 3-D models to deliver her lessons in the most efficacious way. Through this methodology, she attracts the maximum interest of her students. This keen interest makes the students learn fast and develop a love for science.
Her noteworthy communication skills help her connect with the students effectively. During a personally conducted routine inspection session in one of her classes, I was impressed to see how smoothly she communicates with children. This quality helps her transfer even the most complicated science concepts to her students quite effectively.
Other than her responsibilities as a teacher, [NAME] has also been a member of the school's curriculum committee. She has played an active part in keeping the school's science syllabus up-to-date according to the education board's requirements.
[NAME] has also been popular in the staff room with her cooperative, respectful and overall friendly nature towards all her colleagues. She maintains a healthy professional relationship with her coworkers. I have never received any complaint from the staff members regarding her behavior. At the same time, she displays a dutiful and compliant attitude towards her seniors. She follows the given instructions and never deviates from the provided guidelines. As a result, the school always receives the expected outcome from her.
I can say, without reservation, that [NAME] will be a valuable addition to any school's staff as she is an outstanding teacher. She will serve an institute well through her relevant skills as well as experience.
For further details and queries about her work and experience, I can be contacted at (phone number) during office hours.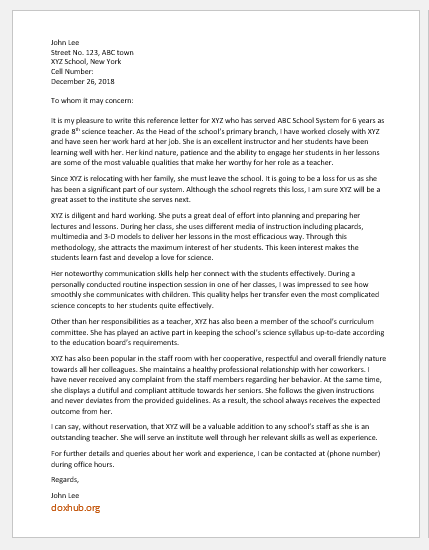 John Lee
Street No. 123, ABC town
XYZ School, New York
Contact Number:
December 26, 2018
To whom it may concern:
Mr. Alex was employed in my school on 24th August 2010. He worked in the school until 5th February 2019. During his time period, he has taught different classes of different levels. I personally have worked with many permanent and intern teachers in my entire career of the school principal and Mr. Alex is one of those teachers who has shown excellent leadership qualities. Mr. Alex was teaching Mathematics to senior classes in the school. He is a person who is very easy to work with.
Mr. Alex was a starter who never required any supervision. He was well-interested in the subject he taught and he taught very well. The qualities of Mr. Alex helped him in becoming a productive part of the institute. Mr. Alex was working on the post of permanent teacher of mathematics in my school. He participated in all the school activities very actively and played his role in the development of the school and students.
It is not easy for me to replace a teacher like Mr. Alex but he has made the transition process very easy for me. Mr. Alex had very good control of the class and he worked as a caring teacher due to which, he gained a lot of respect from students.
Alex has an attractive personality and very professional behavior. His interpersonal communication skills are outstanding and people associated with him such as students and their parents easily understand him. He fulfilled all the responsibilities well that were assigned to him during his employment period.
In closing, I would like to say that Mr. Alex is a loss of our school and gain of another school. He is a tremendous asset of the institute wherever he works. I am very proud to have Alex as my employer in the school for more than 8 years.
For any query, you can contact me through my phone number and email address mentioned below. I will be happy to answer your questions.
Regards,
John Lee
Principal of ABC School