Letter -1
To whom it may concern,

Dear Sir,
I, the head of Sacred Heart Cathedral, Wisconsin Street, would like to take this opportunity to address a pivotal matter concerning our everyday life at church.
As you may already be familiar with the growing needs and requirements of both social and electronic media to an extent that it has become mandatory for every organization to have their active accounts on these platforms to survive. Moreover, it is quite like the survival of the fittest once you make an account.
Henceforth, the board of directors at the Church has decided to purchase all the media equipment we need to begin our YouTube channel and run Instagram and Facebook accounts. Since we will go for premium quality tools, our finance team made an estimate that the expenditure will be huge.
Unfortunately, the Church does not have that huge of an amount right now in our treasury. After much consideration and thought, our directors came up with a proposal to meet both our ends in a respectable way.
We would like to request you, our esteemed partner, to partake in buying the media equipment for the Church by paying half of the amount. We shall take care of the rest of the half amount required to make a full purchase. With the help of our community and partners, Sacred Heart Church will soon emerge as one of the leading religious places in the state.
Should you have any queries regarding the proposal, please feel free to contact us at [X]. You can also email us at [email] and our representative will satisfy you.
Sincerely,
Mark Buffalo,
Head of Sacred Heart Church,
Wisconsin Street, DC, US.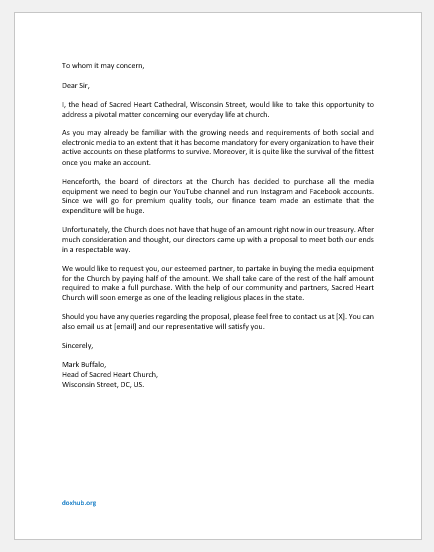 Letter -2
Subject: Request for media equipment for church
Dear Mike,
I am approaching you on behalf of the LifeBridge Church situated at Westchester, North Carolina. The church's media equipment is long outdated which is causing a great hindrance in our everyday rituals and performances as we now commemorate live. The recent spikes in COVID-19 have pushed us to wind up all our onsite business and move it on the internet.
Nevertheless, unfortunately, owing to the lack of the right media tools, we are unable to meet the demands of this change in medium. Our regular members are strongly demanding us to resume the routine online but unluckily we do not have enough sources now.
Therefore, the advisory board presented the suggestion of approaching our well-wishers with a proposal of donating us the desired media resources. We request you to aid us in getting back on our old track and help thousands of our members revive their spirituality.
Should you have any questions regarding this matter, please feel free to reach us at [X] or email us at [email] and our representative will help you draw a map of the project.
Sincerely,
John McDonalds,
Director HR,
LifeBridge Church,
Westchester, North Carolina