I would like to request you to grant me leave for the coming week from 6th to 10th June. I have to go out of town due to a personal commitment. Your consideration will be much appreciated.
I have instructed my assistant, John to handle the clients and carry on with the existing tasks during my absence. Mr. Kevin has also agreed to oversee my work while I am away. In case the office needs to reach me due to some issue, I will be available on the phone.
I shall be grateful to you for the approval of my leave application.
This is with reference to the ABC project. I request you to approve the budget as discussed in the feasibility report I submitted to you yesterday.
Kindly let me know as soon as you have studied the report. We can work on any required changes to the overall budget.
The task can only begin once the funds have been sanctioned by the company. Therefore, kindly fulfill my request as your first priority so that the project can be completed within the deadline provided by the client.
My team awaits your approval.
I am writing to request you for a promotion to the post of Assistant Manager in the Health and Safety Department. As Mr. John Doe is leaving, the mentioned post will be vacant. I would like to be considered for this title owing to my experience in this field as well as relevant skills.
I have been working in the said department for 6 years as the Administrative Officer. Being an important part of the Health and Safety team in the organization, I have been able to make some noteworthy achievements by completing multiple projects. I have enclosed details of these projects with this letter. In addition, I have also received the most up-to-date ISO certification in the field. Please find attached copies of the certificates highlighting my skills and knowledge.
Taking into account my experience, achievements, and capabilities, I feel I am ready to take this new responsibility. Kindly consider my request.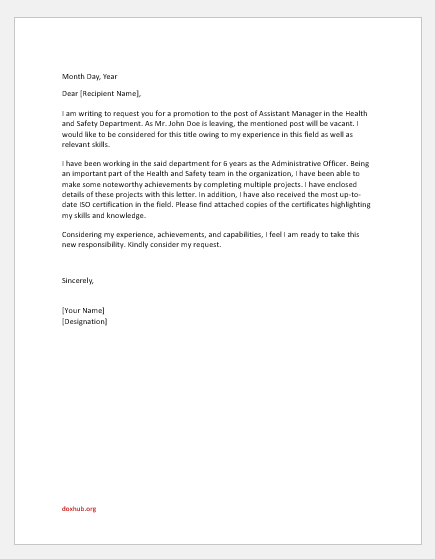 Requesting to Relieve Early
This is my official notification for resignation. The company's policy requires me to complete a notice period of 1 month. However, I request you to relieve me early as I have to move abroad for my new job in 2 weeks.
I understand that I would not be entitled to my provident fund unless I complete the notice period. It is my request to make an exception for me, owing to my circumstances.
I would really appreciate your kindness.
I request you to recommend me for the XYZ training program being offered by the company next month. The new skills I acquired through the training will be very useful for many of our upcoming projects.
I look forward to your response.
Requesting for Discussion
I would like to request you for a meeting as I wish to discuss my salary raise with you. I feel the increment given to me is not fair when we take my experience and achievements for the company into consideration.
Kindly let me know what time you will be available for further discussion.
I await your response.
Requesting for Early Release
Please accept this letter as my formal notification for resignation. However, I regret to inform you that I will not be able to complete the notification period of 1 month. I shall be officially leaving the office next week on 2nd March.
Kindly consider my request for early release. I have to move next week with my husband due to his official transfer to XYZ.
I shall be grateful to you for your consideration.
Requesting to Approve Leave
I am writing to seek your approval for my annual leave. I wish to avail my 3 weeks paid leave starting from 8th October.
My colleague, XYZ has agreed to fill in for me during this period. I will be back before the scheduled audit in November.
Kindly approve my request.
Requesting for Half Day Leave
I am requesting for a half-day leave tomorrow, 26th March as I need to attend the PTM at my son's school. I shall attend office in the first half of the day and will be present at the 11 O' clock meeting with the GM.
Kindly approve the requested leave.
Requesting for New Project
After the successful completion of the ABC project, our client Mr. John wishes to sign another deal with us. This time he wants to give us a bigger order. It will be a profitable project for the organization. I, therefore, request you to approve the assignment and let me lead the team.
I have been able to deliver good results well within the given deadline for the previous project. I now have the experience requires for this task. Moreover, I have also gained the trust of the client. I, therefore, feel I am the most suitable choice as the supervisor of the project.
I am also available for further discussion. I look forward to your reply.