Letter 1:
October 5, 20XX

Ralph Sidney
Cooperative Manager
Infosys Company
123 Main St.
Manchester, WA 77899

Subject: I am sorry!!

Dear Mr. Sidney,
I am writing this letter to seek sorry regarding my unethical behavior when you needed me the most. I am feeling so much ashamed now for what happened that day. You are one of the closest and dearest friends of mine and I cannot imagine my life worth living without you. I admit my unprofessional and unacceptable conduct. In spite of all this, I request you to give me a second chance to clear myself.
First of all, I am really sorry for not being there for you when you were in need of me. The reason for all this is that it had been a very tiresome and busy week for me because of office heavy load. My manager had burdened me with extra work hours while the customers continuously were getting on to my nerves. It was a very cranky week for me that compelled me to lose my temper with you over a small argument. I know that I shout out at you for no reason and there is no excuse for my wrong behavior.
I am feeling much ashamed for what I did and after shouting at you I realized my mistake that what I have done with you is totally wrong. However, you left earlier without giving me chance to clear myself and seek an apology from you. I am repented over my wrongdoing and wish time to turn back to not happen this vexatious incident.
I cannot tell you my condition now that how penitent I am feeling. I am sorry for blemishing you. I request you now to forget what had happened last time and give me second chance. I promise that I will never commit such an act again.
I request you to move on now owing to our fifteen years old friendship. You always had been a source of inspiration for me in my hard times. This entire horrendous incident occurred because of my stressful job. You are the part and parcel of my life and I always need you there for me as you always had been. Waiting for your reply anxiously!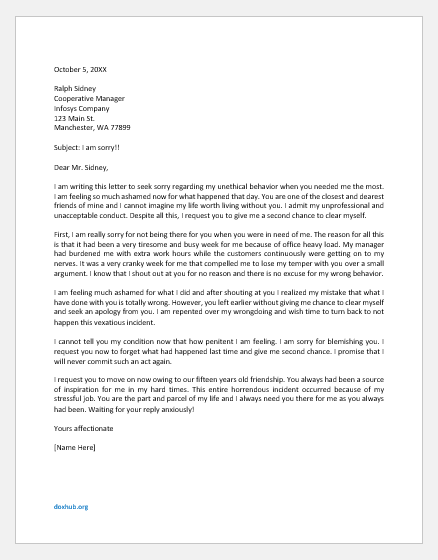 Size: 22 KB Word .doc File 2003 & later
Download
---
Letter 2:
October 5, 20XX
James Williams
Cooperative Manager
Infosys Company
123 Main St.
Manchester, WA 77899
Subject: I am sorry!!
Dear Mr. Williams,
Hope this letter finds you in good health. It has been ages since we met last time and I am writing this letter as an apology for not being there for you on your big day. First of all, heartiest congratulations to you for the new phase in your life! I hope that your married life is going well around the corner. I am regretful for not attending your wedding ceremony. I hereby submit my sincere apology to you and want you to forgive me after hurting your expectations. I cannot express in words how regretful I feel to miss the most auspicious event of my best friend's life.
Due to some unanticipated happenings, I jammed up in a certain formidable fidelity. I know that I should have been with you through all the wedding events and arrangements, but I disappointed you a lot. Friends remain there for each other in the flounder on important affairs. Please now do not bring this thing in your mind that I put behind you by not considering your wedding an important event. I have been sorry for not attending your marriage. I begrudge the occurrences that avert me from being there for you.
You are a very close friend of mine and we have been with each other for ages and remain present in each other difficult time through thick and thin.
I am sorry for taking your marriage for granted. I know you are angry with me and that's why you do not answer my phone calls. I request you to talk to me and respond to my phone calls. I want you now to resolve the matter because I do not want to lose you.
Regards,
Luther King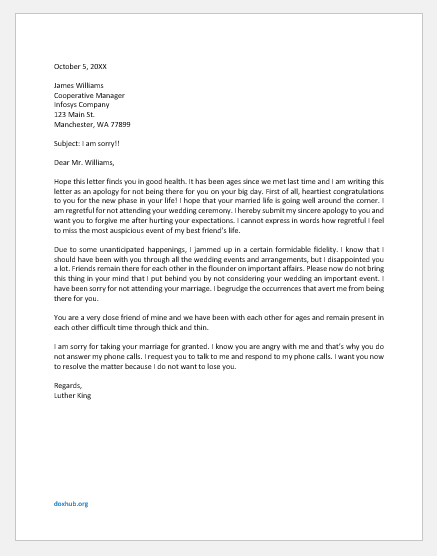 Size: 21 KB Word .doc File 2003 & later
Download