Letter 1:
October 5, 20XX

James Surrey
Cooperative Manager
Infosys Company
123 Main St.
Manchester, WA 77899

Subject: The shipment [X] will be delayed

Dear Mr. Surrey,
Hope you find this letter in the best of your health. I am writing this letter to you informing you about the delay in delivery of the order that you had placed from our outlet in Massachusetts. We were supposed to receive the shipment on 25-10-20XX, but due to some technical issue, it was not received on the due date. The cart that was supposed to bring shipment met with an accident on the road and all the orders of that date are pending now. The product that you had ordered from our outlet has been stalled and we are now trying our best that you receive your order on time.
The convenience of our customers is more important for us and we are sorry for any kind of inconvenience this time. Most probably the company will resolve the technical issues within the next two or three days and after that, you will receive your order. We assure you that nothing of this kind will occur again in the future and thank you for being with us in this difficult time. Moreover, we are offering you a 20% discount if any such delays occur in the future, we highly appreciate your efforts and patience for understanding and bearing us and we are obliged to you for trusting our services.
I am hopeful that in the future too you will place your orders from our outlet, and we will provide our services without any delay or failure. If you have any questions and queries about your order, then do not shy to ask anything from our helpline for customer services. Our helpers will provide all kinds of assistance to you.
Regards,
James Watson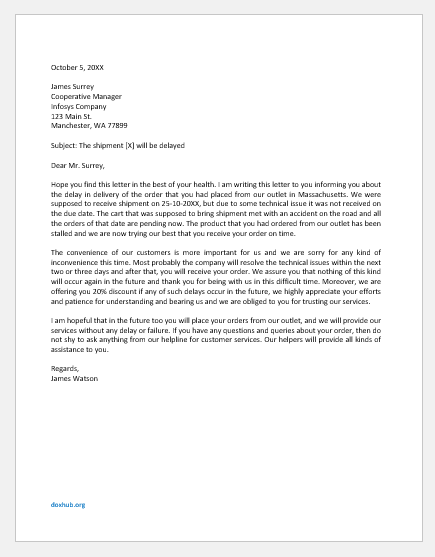 Size: 19 KB Word .doc File 2003 & later
Download
---
Letter 2:
October 5, 20XX
Surrey Ralph
Cooperative Manager
Infosys Company
123 Main St.
Manchester, WA 77899
Subject: The goods will be delayed
Dear Mr. Ralph,
This letter is regarding your order number 309 that you had placed from our company's outlet in Manchester on the 5th of this month.
We heartedly seek an apology from you regarding the late delivery of the items that you had ordered. Because of non-uniformity in the fabrication department, you have come across with this inconvenience. We have received orders this month beyond expectation and all this has caused the delay in your order. Our customer services helpline is trying its best to diminish the delay as soon as possible to lessen your issue. For this purpose, we have provisioned our sales department with ten more staff members than usual that will work for continuous 18 hours a day, and most probably your shipment will be ready to dispatch in the next four to five days.
You have been a supportive and loyal customer to our organization for many years and we are highly obliged to you for your support towards our company. For the inconvenience this time we are highly apologized to you and offer a 15% discount on your next purchase from our outlet. When you will place an order next time you can avail of this opportunity. We have taken all regulatory measures now to avoid this kind of happening next. These delays put a great impact on our company's reputation, and we apologize to you once again for all the issues and trouble that you had to face because of late delivery. We appreciate your efforts to support us in this matter.
Regards,
Manish Edison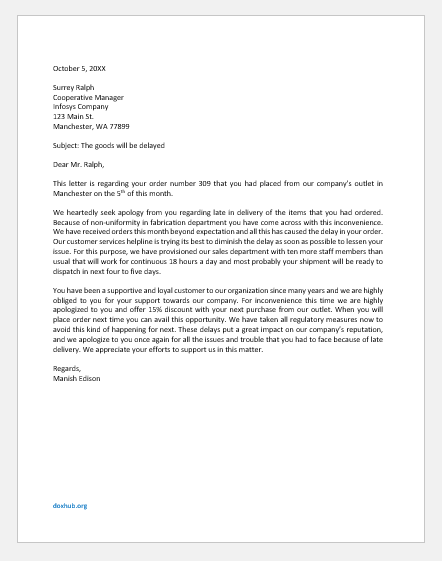 Size: 21 KB Word .doc File 2003 & later
Download
---