1-
This message is to pay my gratitude to you for the lovely lunch party yesterday. It was such a delicious and enjoyable meal. You are literally a wonderful personality with whom one enjoys working. This lunch gave me an opportunity to interact with other staff members. In daily routine, we do not find much time to know about each other, but you arranged such an auspicious lunch for all of us. It was a wonderful experience. This kindness of yours has boosted my energy level and I am proud to be a part of this company. Such kind of friendly atmosphere makes the workplace an enjoyable place to work. I am thankful to you for planning such an event. I have come to know about your friendly side as well. Thank you so much for all this. May you be rewarded with the best.
Regards,
Bleak Morphine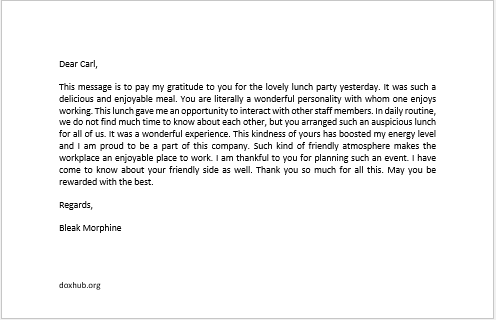 2-
Dear Mr. Cipher,
I am really surprised after the lunch that you had arranged for all your employees last week. It was a very amazing and enjoyable moment when you took us to one of the renowned restaurants in the town. The food was so mesmerizing and delicious that I had never tasted it before. So many thanks to you for arranging it and giving us an opportunity to know more about you and your company. I really felt like a prestigious and valued person of the organization. It literally made my day, and I will never forget it. To spare some time out of the busy office schedule was so difficult but you made it possible. Thank you so much for giving us your precious time and company that one only wishes for. I got to know about you in detail. You are truly an incredible person and boss. I am thankful to you for all this. Lots of prayers for you.
Yours truly,
Steward Jones
3-
Dear sir,
Bundle of thanks to you for taking us out to have lunch in the famous restaurant in Manchester. The sight was just amazing and superb, and I forgot all my tiredness after viewing the greenery around me. There is no denying the fact that you are a thoughtful and wonderful boss. It was an honor for me to spend my time in your company where I came to know the hidden skills of your personality. Your way of treating your employees is always enchanting and I feel lucky that I chose to be a member of your organization. Thank you so much for spending your valuable time with us. Your offer to take all of us out for lunch was an unexpected and pleasant surprise. This truly shows your leadership qualities of how to inspire and encourage your workers. Thanking you in anticipation.
Regards,
Joseph Mark
4-
Dear Mr. James,
I just want to say thank you for the arrangements for your company's workers. It was a refreshing, enjoyable, and pleasant experience for me. I owe you for providing us guidance to improve our personality. It made me feel valuable and prestigious that I am a recognized part of your company. The food at the lunch was beyond experience. Everything was arranged perfectly, and I got a chance to know more about you and my other colleagues which in-office hours is a tough task. I appreciate your efforts in making us all valuable. I have always worked under your guidance and now I have more respect for you. It might not be a big deal for you to take us out for lunch but for me, it was a wonderful and amazing experience. Thank you so much for making such arrangements for your employees. May God bless you.
Regards,
Adam Bede
5-
Dear Mr. Lobes,
Hope you will be doing fantastic. I am a big fan of yours since you gave us lunch on Friday. It is the best feeling ever when you are recognized by your boss. This feeling cannot be described in words. I am thanking you from the core of my heart for all this. Now I will work extra harder to burn all calories. I really enjoyed your company there and got a chance to know my colleagues as well. These kinds of events make the workplace an enjoyable place to work. The food offered was mouth-watering and fantabulous. Thanks for all this.
Regards,
Thomas Hardy