Sample -1
A few days back your supervisor gave you a CD which had important details regarding the ongoing company project. It has been previously observed that you forget to lock your PC after completing any of your major works. You were warned verbally by your supervisor that keeping the system unlock may result in leakage of information. But it seems you had not taken his words seriously.
Your negligence has resulted in leakage of major details of the said project. We had entrusted you with a valuable piece of information that you were unable to handle appropriately. You have been a very good employee of the company and we expect responsible behavior from you. Carelessness is something that shall not be tolerated.
We hereby are warning you once again through this letter to adopt a responsible attitude towards work. We do not wish to observe such behaviors in the future. I hope to see a positive change in you.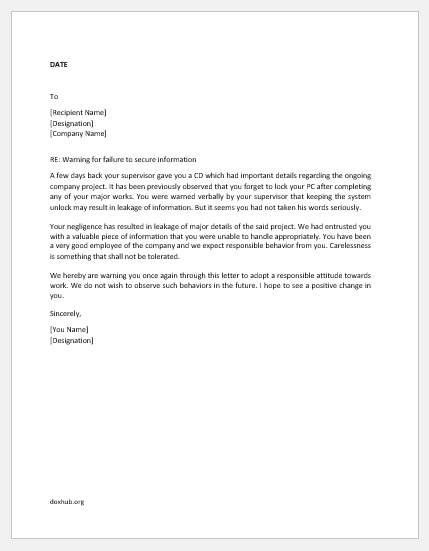 MS Word All Versions Size 11 Kb |
Download
---
Sample -2
This letter is with reference to your email regarding the project. I had requested you to email me the project report. I had received the email but I am sorry to inform you that you had been unable to handle the confidential report.
I had come to know that your PC was out of order from the past two days of which you did not speak to anyone. In the urgency of emailing me the report you had used your coworker's PC and in doing so had forgotten to delete it from the respected individuals PC. Resultantly the information was out.
We do not expect such behavior from our employees. You are a valuable asset to our company. Next time whenever you face any kind of difficulty in processing work information, do let us know so that we can handle it in an appropriate manner. Second, you have used your coworker's PC which is certainly not allowed.
We intend to warn you to be careful in whatever you do. Negligence will not be tolerated.
MS Word All Versions Size 12 Kb |
Download
---
Sample -3
Last night I had received an email from our current client that the email which we had to forward him was also forwarded to an individual who is not part of our dealings. Intriguing more into the matter, I had found that you had mistakenly emailed the project head details to our previous client.
You had to send the email to Mr. ABC our current client, but you had mistakenly sent the email to our previous client Mr. ABC who is certainly not a part of this project. Hence the information remained no more confidential.
Be very careful in whatever you do. Such carelessness shall not be tolerated.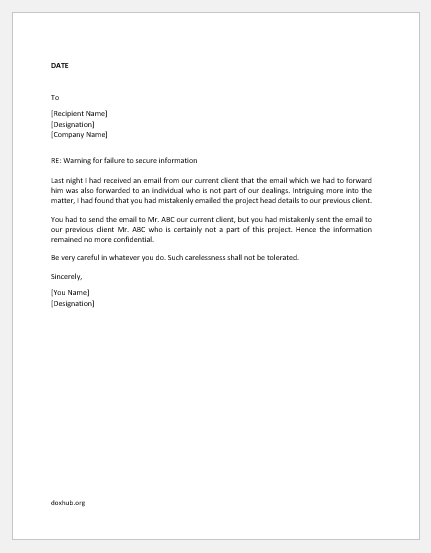 MS Word All Versions Size 13 Kb |
Download
---