Sample -1
We have previously ignored your frank nature of openly expressing your views amongst other co-workers considering it habitual. You have been verbally warned by your supervisor as well and we thought that it had worked in a good place.
You were entrusted with important company information which we are sorry to say has been reportedly discussed by you amongst your co-workers. This immediate step taken by you has led us to issue a warning letter in your name.
You have been a very valuable employee of the company through all these years and we surely do not want to lose you. We hereby are warning you through this letter to stop your activities there and then otherwise demonstrating such behavior will certainly lead us to take serious action.
We hope to see a positive change in you in the near future.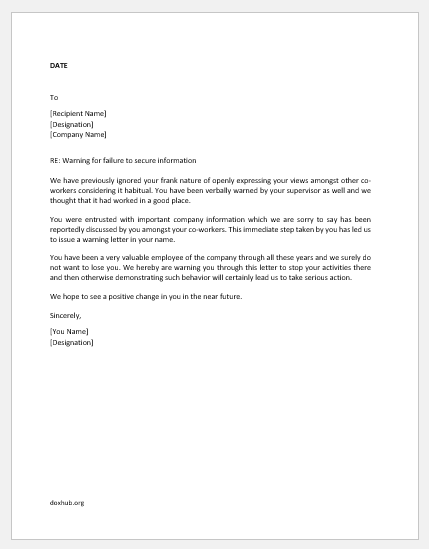 MS Word All Versions Size 12 Kb |
Download
---
Sample -2
The moment you were declined promotion has brought in a drastic change in your nature. It has been repeatedly observed by the management that you welcome everyone for discussing any minor change regarding company matters.
We had certainly taken it as a result of not being promoted and entrusted you with some official information to make you feel like a part of the company. Unfortunately, things did not go well.
You have discussed important company information amongst your co-workers which have led us to issue this warning letter. You have been a very proficient and talented employee of the company whose efforts have always been valued. But showing disrespect for confidential information will not be tolerated.
We intend to warn you in this letter to avoid unnecessary discussions otherwise strict action will be taken against you.
We intend and hope to see a positive change in you.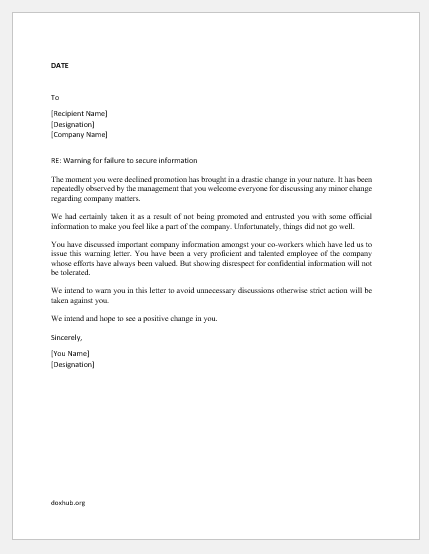 MS Word All Versions Size 12 Kb |
Download
---
Sample -3
We have been receiving constant complaints against you with respect to leaking out information entrusted upon you. We had earlier warned you verbally to avoid such things but it seems that things did not do well.
Our ignorance has led you to not only discuss important information given to you but also openly express your thoughts which are certainly not tolerable. You have been a diligent employee of the company and valuable too. We do not wish to lose you but if you remain intact with your habit we are afraid we will have to take some serious action against you.
We intend to warn you to stop practicing discussions amongst co-workers as this is not tolerable at any cost. Any further complaint will lead to strict action against you.
We hope to see a positive change in you.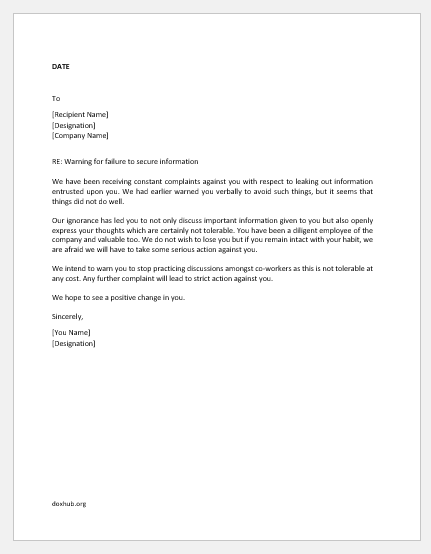 MS Word All Versions Size 13 Kb |
Download
---