MONTHLY BUDGET SHEETS
Individuals often mess up with their personal budgets. At instances, they spend money on trivial activities because of their unawareness to budget limits. Consequently, they run short of money well before the end of the month. Embarrassed, they look to borrow money to fill the expenditures during the latter half of the month. In today's day and age, the phenomenon is common among students as well as employed individuals. Further, Individual bearing the burden of the family tends to mess up all the family budgets only to cause discomfiture in the family.  The whole discomfort could be avoided if proper importance is paid to the personal monthly budget sheet.
The suggested template would not only help you follow a certain pattern but also help you to discipline your expenses. The template must have the entire basis covered. The mandatory expenses should first be listed down in the template followed by the little expense which could be categorized as luxury expenses.
The template must be carefully built on the basis of your practical expenses and you must dwell upon eliminating the extra expenditures which are the cause of imbalance in your monthly budget. After the formation of an explicit monthly budget template, you must implement it with all seriousness. After a couple of months, you could easily make amendments to the list depending on your budget and requirements. The life with a monthly budget template would be a lot easier than without it. A sense of discipline would prevail through your demeanor through a monthly budget template.
PREVIEW & DETAILS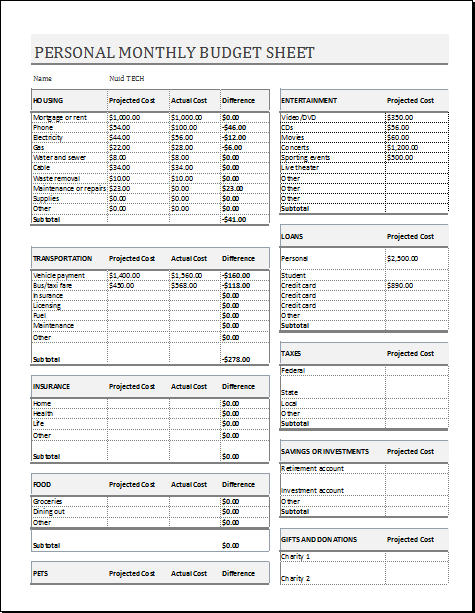 PERSONAL MONTHLY BUDGET SHEET
File Size: 58 KB mobile [Android+iOS] & iPad
Download Excel (.xls) 2007 & 2007+
File Size: 22 KB
Download OpenOffice Calc (.ods)