Re. Announcement of Annual Training Program for 2023
Dear Employees, this letter concerns the annual training program 2055 which is going to start in [month]. As per our scheduled program, the company is committed to providing necessary training and education to the employees for their personal and professional well-being and growth. It is to inform you all that the training program shall commence next month in the company's training hall.
This training shall add to your inter and intra-personal skills and will definitely make your performance efficient and better at work. We are delighted to tell you that in this phase of training, we are taking almost all the employees who will work and get training sessions simultaneously. Due to the growing economic stress on the business, we do not have enough budget to carry out this training program outside the company or get external assistance in this regard.
However, the training sessions will be conducted and managed by the company's most senior officials. It will be a classroom-based learning program in which you will be educated with leadership skills and the changing trends in digital learning and education, communication skills, and the language apparatus as a tool to win clients and projects, public and customer service representatives in the most effective way.
Please remember that the training is not limited to the mentioned skills. Also, these training sessions are test-based and hence, there are chances of your performance getting judged on the basis of these training sessions and the assessment made at the end of the program.
You will also be provided with a certificate of training participation at the end of the program which will be effective for two years from the date of issuance. This certificate can enhance the strength and outlook of your professional profile which will ultimately provide you with better opportunities in the future.
The training program will be a [number of days or weeks] session in which senior officials will present and discuss modern skills and their needs. Moreover, one-third of the training session will be IT-based in which you will gain more knowledge and experience on your computer skills and research methods.
To conclude, this training session is mandatory for all the employees and therefore, no excuse from work will be accepted during these days. If any of you have a prior commitment at work and otherwise, please discuss your matter with the head of the department before [date]. All employees are required to submit their professional profile along with educational and experience certificates to the Assistant HR Manager till [date].
Your active participation in this training program is highly encouraged and appreciated. Thank you.
Regards,
[Name]
[Designation]
[Company Name]
[Date]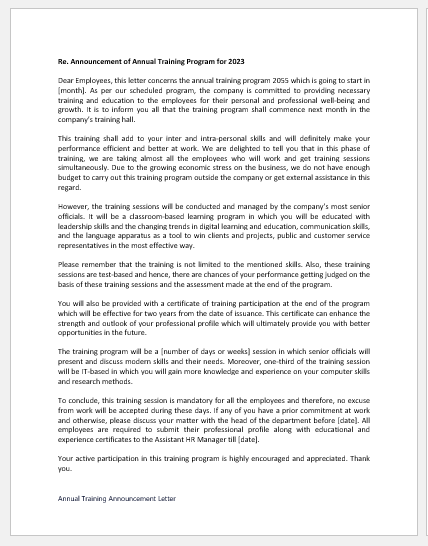 (Sample #2)
Subject: Commencement of Annual Training Program
Dear All,
This letter announces the commencement of the annual training program for the session 2022-23. This is an annual training program that is multi-phased and divided into different groups according to departmental needs and requirements.
In this training session, you will learn more about your departmental education and field-related experience. The training has two phases for all the employees. The first phase concerns the general training which is also called the common training program (CTP) in which our employees will learn about professionalism. Professional research, professional agenda and international markets, communication skills, client coordination, and leadership skills. In the second phase, which is also called the departmental training program (DTP), department-specific and categorical training will be provided.
However, this training is employee-oriented, therefore, it is mandatory for everyone to attend all the sessions. The training program will be [number of days] days long with four days a week of training sessions. Two hours a day class will start from [mention the date] and will take place in the conference hall. Any change in the date or place of the training will be informed immediately.
If you have any questions, please ask without any hesitation. Moreover, we are open to discussion, ideas, and suggestions for the training program, you are welcome to open up and let us know of your valuable contribution and feedback. Thank you.
Best Regards,
[Name]
[Designation]
[Company Name]
[Signature & Date]