It is the focus of every business to make his clients happy and satisfied with their dealings and they would suggest their services to other potential clients. It is human nature that everyone makes errors, and it is totally unintentional no one does it with one's will. Sometimes these mistakes are unavoidable. Perhaps a simple mistake makes your customer annoy or make your boss worried. In this case, you can send the apology letter for your mistake to your client in a good gesture for a firm to maintain its status and find the solution to improve your relationship with your customer.
The following are the samples of different situations and you can use these letters to your customers for the apology.
Apology Letter to Boss for a Mistake
Date
Dear [Recipient]
I owe you [mention company name, business, or firm] for the honest apology as of delivering you the wrong info [mention situation].
It was truly not my intention to generate such type of inconvenience and uncomfortable situation. I hope that I will be given the chance of correcting my errors and resolve the matter in an appropriate way.
Though I have caused this unfavorable experience, I can see where I was wrong [define the cause of your mistake]. I believe this mistake will help me to learn more and prevent me to repeat the same errors in the future.
You can feel free to share your thoughts and worries with me about this matter. You can contact me through my [mobile number, email].
Best regards
Name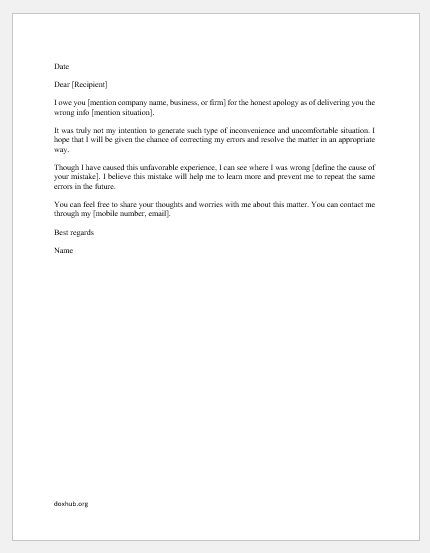 MS Word File
Size 17 Kb
Download
---
Apology letter to client for a mistake
In business dealing, we unintentionally do mistakes that can ruin your image in front of your clients. In that case, you can write an apology letter in a straightway.
Sample Letter
20-05-20XX
John Andrews,
F-67, Eden Heights, Sputnik Street
Michigan, USA
Subject: Apology letter to client for a mistake
Dear Andrews,
I, Anderson, the branch manager of Stars leather Company, am writing this letter on behalf of my company for an apology. Leela Sarton is a junior customer services officer and she sent you wrong invoices on 01-05-20XX through email. I am very sorry to know that her mistake caused some serious problems for you. It also caused problems for our accounts department. I know she should have been more vigilant while sending invoices to the potential clients like you. Such a mistake was not being expected from her because she was trained for three months before she joined the office.
Our company emphasizes on providing the best services to our clients and that is why they believe us. We have zero-tolerance for nonprofessional behavior exhibited by our employees. It was unfortunate that you faced a problem owing to our employee's mistake and the company says you sorry for this act of negligence and takes full responsibility for any pain or inconvenience caused to you. It will be made sure that such an incident would not happen in the future. We will not only rectify the issue but also set an example for the others to follow.
As a compensatory stance, the company is offering you a free shopping coupon of $100 to be used at any of our outlets. We will provide you with our best services and at the same time hope that this incidence is not going to harm our relationship with you.
Regards,
Anderson.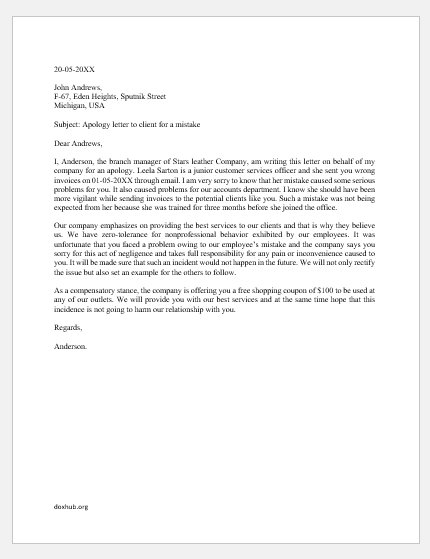 MS Word File
Size 21 Kb
Download
---
Conclusion:
These types of apology letters help you to improve your image again in front of your clients and cover your mistakes.