Medical Note For Work
1.
My patient, (name) is suffering from the flu. Any exertion can worsen his symptoms. He needs rest for three days along with the prescribed medication in order to recover completely from his condition. He should, therefore, be exempted from attending work for the said number of days.
A copy of the prescription has been attached. You may email me at (email ID) for further information.
2.
I am Dr. XYZ writing for my patient, Miss Jane Doe. She was admitted to my hospital yesterday, 12th Dec for high fever and flu. She will be kept in our care until her condition improves. 
Jane should be granted leave till she recovers. Her reports will be emailed to you. Please contact my assistant at the provided number for any questions.
3.
Mr. John Doe is my patient at ABC Health Centre. He is suffering from severe flu and his symptoms have aggravated with extreme chest congestion. He is undergoing treatment and should be exempted from the office for at least 5 days.
Please find enclosed copies of his medical reports and prescription. For further information, I may be reached at my email.
4.
Mr. John Doe is under treatment for severe flu at ABC Health Clinic. He is suffering from fever, body aches, and chest congestion. As a result, he will be unable to carry on with his normal everyday routine, including office work, until his condition improves.
Currently, he has been prescribed a course of anti-viral medication for a week. He will also be nebulized every 4 hours for 3 days. Additionally, it has been He also needs to avoid exertion for the next 3 days. Kindly email me for further information or updates about John's condition.
5.
Kindly excuse XYX from attending the office from 12th June to 14th June on account of the flu. He needs to take rest and avoid physical exertion in order to recover.
Please find attached a copy of his prescription for verification.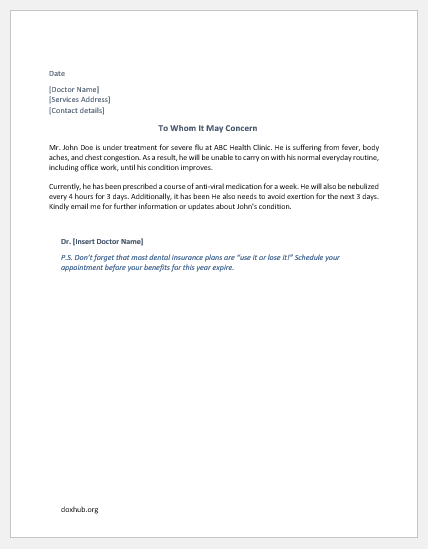 MS Word: (.docx)
Size 23 Kb |
Download
---
Medical Note for School
1.
XYZ has been brought to me with symptoms of flu on the 12th of August. A swab test has been conducted to determine whether it is flu or seasonal allergy. It will take 24 hours before the results come. Till then, it is advised that XYZ does not attend school so that he may rest and does not spread any possible virus to his fellows. Contact me at (email ID) for further information about the patient.
2.
This is to certify that the above named is my patient at XYZ Hospital. He has been diagnosed with typhoid. It is advised that along with the prescribed course of medication, the patient also takes rest at home in order to let the disease subside. He should be exempted from school for the next 3 days.  Kindly contact the office for detailed patient information. 
3.
As XYZ's pediatrician, I am writing to confirm that the patient has contracted swine flu virus as proved by his test reports. He should be granted leave for at least a week to let him recover. It is also important to avoid spreading the virus to others at the school. Another test will be conducted a week later to determine whether the disease has completely subsided or not. In the case of the latter, the patient would need more days off from school. I will be able (email ID) for any queries or further information about my patient. 
4.
This is to certify that Jane Doe, age 14 years, has been diagnosed with hepatitis A. She has been prescribed medicines along with strict advice to avoid exertion. The patient should, therefore, be exempted from attending school until her complete recovery.
According to her current bilirubin test, it may take 2 weeks for the recovery to take place. However, depending on the patient's response to the prescribed medication, the recovery process may also take longer. Jane should be exempted from school until her future bilirubin reading drops to the normal range.
Please contact my assistant, Dr. ABC at the provided contact information for any questions or verification.
5.
I am writing for my patient, Harris Ahmed, age 10 years. He is suffering from food poisoning with vomiting and diarrhea. Please excuse him from school for 3 days.
I will be available on (phone number) between 3 pm and 5 pm for further information about my patient.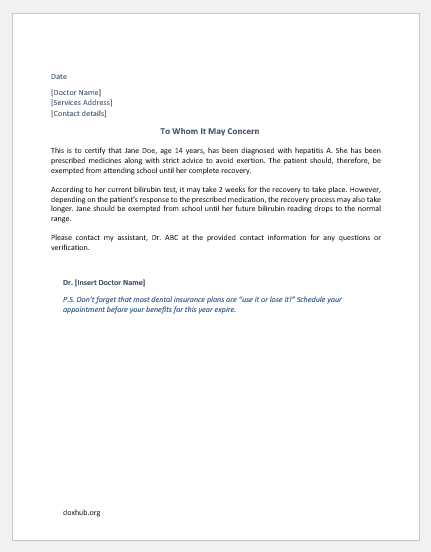 MS Word: (.docx)
Size 24 Kb |
Download