1.
Re. Apology for Absence in the Meeting due to Sickness on [DATE]
Dear [NAME], the letter has been written to explain my absence from the meeting that was scheduled on [DATE]. I am writing to inform the reason behind my absence and my readiness to compensate if any problem is caused by it.
Sir, I have been very sick since [DAY] which has impacted my work immensely. I am seeking medical help and getting all the required treatment, but it is advised to me to take proper rest for [X] days and do not stress over it. On the day of the meeting, I was sick and could not make it to the office. Moreover, I apologize for not informing the office about my absence which was also because of sickness.
Sir, I am suffering from a chronic lymphatic disorder which causes several other medical problems like acute pains in the body, headaches, muscle aches, and a bad stomach because of the steroids and antibiotics being given in the treatment.
Mr. [NAME], my medical advisor and a competent doctor who specializes in lymphatic issues advised me to take rest and continue the treatment. A night before the meeting [DATE], I suffered from severe diarrhea which caused acute weakness and lymphatic contraction. Medical certificates on my health issues have been attached along with different lymphatic examination tests conducted on [DATE] have been attached.
I understand the importance of the meeting as the delegates from [COUNTRY] were part of this and it is not easy to compensate for the absence of a project manager at such an important time. A night before the meeting, I was in the hospital's emergency ward, therefore, I could not inform the relevant department about my absence (slips enclosed).
I assure you to work harder and indefatigably on this project to compensate for all the time wasted due to personal affairs. Please respond to me at your earliest. I apologize once again. Thank you.
Regards
[Name]
[designation]
[company]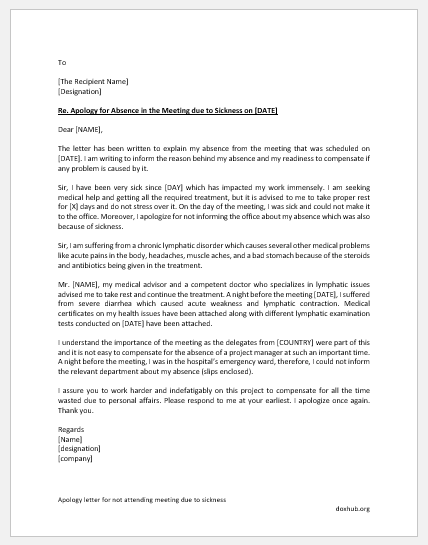 2.
Re. Apology for Not Attending the Meeting on [DATE] Regarding Performance Improvement and Date Analysis
Dear Sir,
I was seriously sick and therefore, I could not come to the office on [DATE]. In the previous few weeks, I have been working hard on three projects simultaneously and it has been very hectic at work for a long.
Due to overwork and the stressful situations in my personal life, my physical health could not withstand all the stressful situations at work and home. Amidst all this and catering to the bad health, I missed the significant and decisive meetings of office corners XCVG-X and the partners.
I am very upset at missing the important meeting as I had severe headache and body aches along with flu and bad throat. In the beginning, it was thought that I got COVID-19 and it can cause contaminations but later, it was proved wrong after my PCR-COMP and Coronavirus testing. As it has been evident that the sickness was caused by overstressing and not due to Covid, I shall be back to the office on [DATE].
I wholeheartedly apologize for not attending the meeting that was important for all the executives for the collective analysis of performance appraisals and financial data. Please accept my utmost apologies and respond to my letter. Thank you for reading this.
Best Regards
[Name]
[designation]
[company]