1. Poor service
We have received your complaint regarding poor service at ABC store yesterday. Kindly accept this letter as an apology from our entire staff. We are extremely regretful for your bad experience.
The salesgirl you complained about is a trainee. This is the reason why she failed to offer you the high standard of service our customers usually receive at our store. We sincerely apologize on her behalf and would like to offer our special discount coupons to make it up to you.
We look forward to your next visit. The store manager himself will be available at your service in case you encounter any problems.
Kindly email us at (email address) to claim your discount coupons.
2. Defective product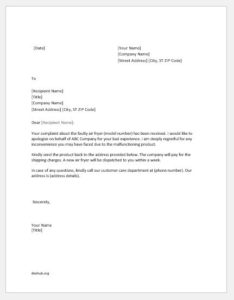 Your complaint about the faulty air fryer (model number) has been received. I would like to apologize on behalf of ABC Company for your bad experience. I am deeply regretful for any inconvenience you may have faced due to the malfunctioning product.
Kindly send the product back to the address provided below. The company will pay for the shipping charges. A new air fryer will be dispatched to you within a week.
In case of any questions, kindly call our customer care department at (phone number). Our address is (address details).
3. Bad product
In response to your complaint about our new weight loss supplement, we would like to apologize for not being able to come up to your expectations. Although our product has received a generally positive feedback from our clients, we are sorry that it failed to satisfy you.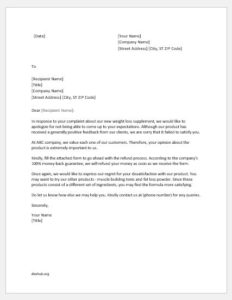 At ABC company, we value each one of our customers. Therefore, your opinion about the product is extremely important to us.
Kindly, fill the attached form to go ahead with the refund process. According to the company's 100% money-back guarantee, we will refund your money as soon as we receive the form.
Once again, we would like to express our regret for your dissatisfaction with our product. You may want to try our other products – muscle building tonic and fat loss powder. Since these products consist of a different set of ingredients, you may find the formula more satisfying.
Do let us know how else we may help you. Kindly contact us at (phone number) for any queries.
---
4. Miscommunication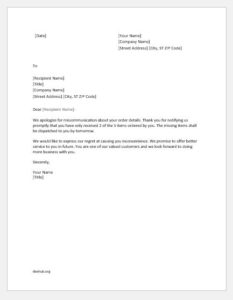 We apologize for miscommunication about your order details. Thank you for notifying us promptly that you have only received 2 of the 5 items ordered by you. The missing items shall be dispatched to you by tomorrow.
We would like to express our regret at causing you inconvenience. We promise to offer better service to you in future. You are one of our valued customers and we look forward to doing more business with you.
---
5. Overcharge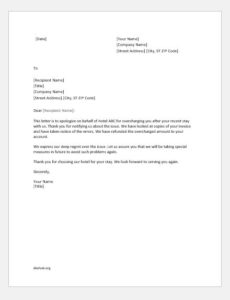 This letter is to apologize on behalf of Hotel ABC for overcharging you after your recent stay with us. Thank you for notifying us about the issue. We have looked at copies of your invoice and have taken notice of the errors. We have refunded the overcharged amount to your account.
We express our deep regret over the issue. Let us assure you that we will be taking special measures in future to avoid such problems again.
Thank you for choosing our hotel for your stay. We look forward to serving you again.
---
6. Delay in response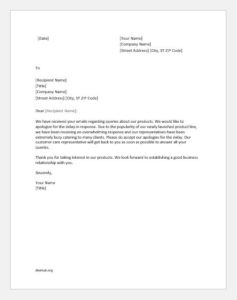 We have received your emails regarding queries about our products. We would like to apologize for the delay in response. Due to the popularity of our newly launched product line, we have been receiving an overwhelming response and our representatives have been extremely busy catering to many clients. Please do accept our apologies for the delay. Our customer care representative will get back to you as soon as possible to answer all your queries.
Thank you for taking interest in our products. We look forward to establishing a good business relationship with you.
---
7. Delay in service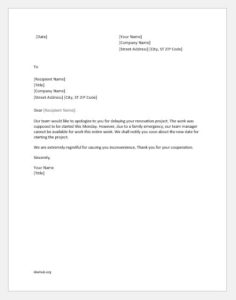 Our team would like to apologize to you for delaying your renovation project. The work was supposed to be started this Monday. However, due to a family emergency, our team manager cannot be available for work this entire week. We shall notify you soon about the new date for starting the project.
We are extremely regretful for causing you inconvenience. Thank you for your cooperation.