Re. Letter on Behavioral Concerns of Your Child [Name]
Dear [Parents/Guardian], I am writing this letter to notify you of the behavioral changes in your child who is a student in my school. I am writing to solve the problems adding negativity, rage, anger, and violation in his behavior. We both should look at the problem keenly and support each other in solving it in time so that it does not linger on and become an acute problem for the rest of his personality.
[Child Name] has been demonstrating an indifferent attitude not only towards school management, but also to his teacher, peers, and friends. However, he has not committed anything violent like breaking things, fighting with others, or verbal violation. We still find him different from his usual personality. He does not participate in class much including not answering the questions and not adding to the ongoing discussions in the class. Moreover, he does not take part in class activities and sports making him a different and lone guy from other fellow beings. He loves eating alone these days and does not talk to his friends much. I have met some of his close friends but no one knows the cause behind his behavior.
I request you look into this matter and don't let this negative phase in his life impact him for long and change his personality. He is one of the brightest and most charming students in our school and I wish him to recover from whatever he is going through as soon as possible. School authorities always try to stay in touch with the students so that any such issues can be pointed out on time and treated accordingly.
In case of any questions, you can talk to our counselor who is observing. His contact details are given below, feel free to discuss the matter with him. I am sure we and you together can treat your child effectively and bring him back to his happy phase. Thank you.
Counselor's Name: [Name of the Counselor]
Phone: [Phone Number]
Email: [Email Address]
Sincerely,
[Name]
[School]
[Signature]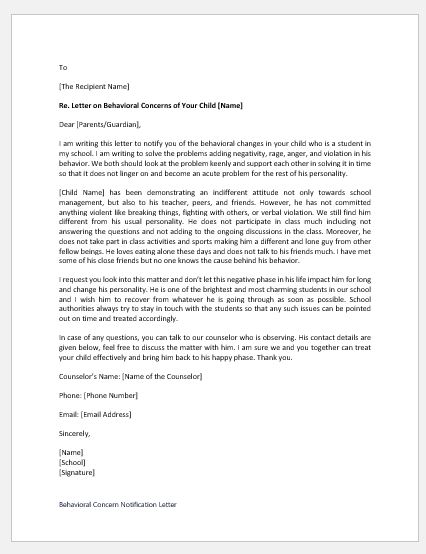 (Sample #2)
Re. Behavioral Concerns Notice
Dear [Name of the employee],
You have been working in this organization for more than [X] years and I am sure that you know our policies and regulations on the staff behavior and demeanor not only with their heads and supervisors but also with their coworkers and colleagues. In this letter, I want to express my grave concerns about your unprofessional and rude behavior reported in the office.
According to the lodged complaints against you, it is reported that you have been very unprofessional in your work assignments and projects. You do not pay attention to the tasks assigned to you and are unproductive at work. You are coming to the office late and leaving early without reporting or informing the concerned persons.
Moreover, you have been rude and loud with your coworkers. Our company tries and assures a happy workplace environment by asserting the need for cordial relationships and professional attitudes toward each other. You are not allowed to get personal with anyone in work matters and get unprofessional.
I warn you that if you do not correct your behavior, you will be treated with reprimanding solutions including demotion, fine, or suspension from work. You have always been a hard-working and nice employee for all, therefore, I expect an immediate change in your behavior and hope that it will be demonstrated in your behavior and focus at work.
Thank you.
Sincerely,
[Name]
[Designation]
[Signature]