Book Publication & Contracts
The book publishing contract is the consistent and powerful cooperation tool between an agent and an attorney. We suggest that when you have decided to deal with any publishing house you just need to make a proper contract which is simple and understandable for both. You need to make the basic, conceptual and clear book contract.
Book publishing contract is between the author and publisher sometimes it is an unfair and one-sided contract which is quite not good. So you should not avoid the details which are given in this contract that has taken an important place in your contract. You have to know about the rights which are granted you by publishers. Every publisher has typical publisher contract and it's upon you how you are negotiating this contract. You must know about that what is being licensed to the publishers and know all the legal conditions of copyright and all the specific rights of you. You also know the country position where your publisher published the book.
All the advances should not be refundable so you should be careful that all royalties meet publishing standards. Also, make sure that do not allow the publisher to reclaim any part of your advance. You just grant some rights and don't transfer your copyright to publishers. And make it confirm that you both agree with the contract. This is also an important part of the contract that you do not stop competing for writing just because of contract terms.
Preview & Details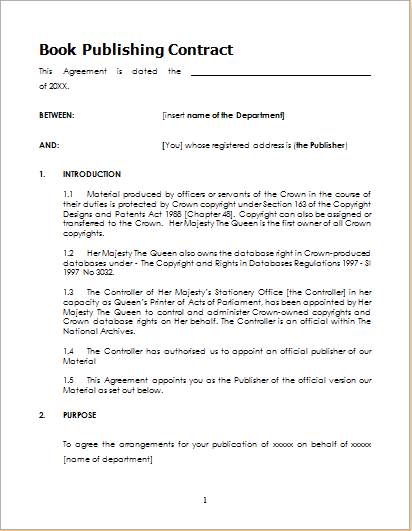 Book Publishing Contract Template
File Size: 49 KB mobile [Android+iOS] & iPad
Download Word (.doc) 2007 & 2007+
File Size: 28 KB
Download OpenOffice Writer (.odt)