Billing error complaint is the least thing that the representatives or executives of your billing company want to receive. They deal with a lot of complaints on daily basis, so that's why the letter must be held to the point and clear. The point of the letter is to sort out the problem in a timely manner.
Things you must include in the letter:
To validate your claim attach copies of the receipts, invoices, notes, or canceled checks. Keep all the original files for future references.
State all valid information regarding the case at hand.
Make a specific request regarding how you think the situation should have to be resolved.
Close the letter, expressing that you hope that the reader will handle the matter well and with a positive note.
Advice:
Bear in mind that most of the mistakes are accidental and that most companies want to answer and sort out the issues of their clients as soon as possible. Do not accuse and do not use abusive words. If the issue does not get resolved after sending two or three letters send one to the president or the CEO of the company. Be firm but respectful in each case.
Below are sample complaint letters for billing error:
Sample 1:
Date: [day/month/year]
From:
Your name (XYZ)
Address
City/State and Zipcode.
To:
Creditor's name (XYZ)
Bill Number [X]
Address
City/State and Zipcode.
Subject: Rectification of a billing error
Dear Customer Service Department,
I am writing to dispute a billing error of amount $[X] that I would like to help fix with my October bill.
The amount is inaccurate because about three months ago, I purchased my Internet device at a price of $45. I bought the unlimited broadband with no data limit. I neither purchased any wireless router nor lease any monthly cost modems, my actual and only fee is $45. However, the bill this month is $90, which is almost twice the price of what I was told it would cost.
How could this be possible? Because the price rise is not expected to increase for a year at least. I want this bill to be fixed or please ask someone to explain this to me. I insist that the mistake to be corrected, all financial and other costs relating to the contested sum to be credited as well.
Enclosed documents are recent and previous bills supporting my position. Kindly resolve the error as soon as possible. Waiting for your reply.
Sincerely yours,
[XYZ]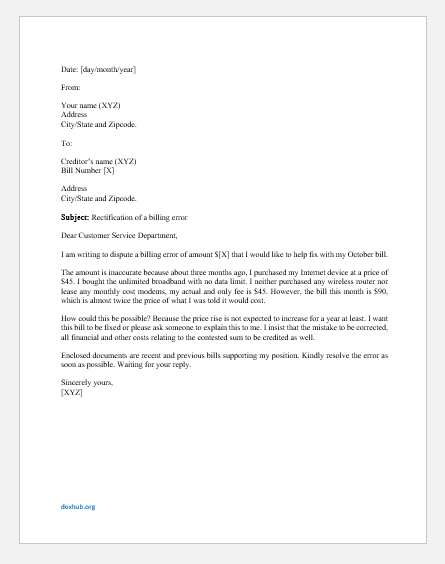 Sample 2:
Dear (name of recipients),
I've noticed a problem I'd like to help resolve with my bill, upon receipt of our gas bill for the last month. We have noticed a 70% increase in the bill. We find this very alarming because we have been compliant with our consumption to expect such a large spike in our bill and it's the same as the last few months. Could you please take a look at this, and see if there was a mistake in reading? Hope that we can obtain the final bill soon so that we can settle the obligation for this month as soon as possible. Thank You.
Sincerely,
[XYZ]