Re. Counseling Letter for Unprofessional and Rude Demeanor
Dear [Name], this letter concerns your bad demeanor at work, which we cannot tolerate in any way. I am writing to inform you that such behavior has no place to be accepted, and you cannot go with your job here. You are required to read this letter carefully and explain the reason behind your bad behavior.
Working here requires a lot of hard work and adherence to the prescribed rules and regulations that the company makes. The company has a policy for non-serious and disobedient workers which clearly states that, in any such case, the employee should be demoted or terminated permanently after serving two warning or reprimand letters/emails.
It was reported one week before that you were found cat-calling your subordinate female workers. Such an act is considered to be pathetic enough to direct an employee to the exit. However, looking at your working experience and good performance in the past three years, we are considering writing to counsel you to improve your demeanor.
According to the company's policy, no one can ever be rude to their coworkers or seniors. If any such thing happens, he will be terminated without further notice. Therefore, I ask you to immediately improve your behavior to avoid unpleasant results. Thank you.
Regards,
[Name]
[Designation]
[Company Name]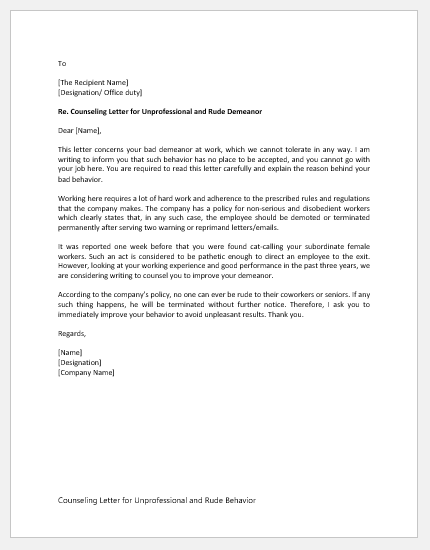 (Sample -2)
Subject: Letter Concerning Rude and Disruptive Behavior in School
Dear [Name of the Student],
This letter from the Directorate of Student Affairs and Counseling (DSAC) informs you of how disappointed we feel at your rude and disruptive behavior in your class. I am sad to hear that you are rude to your classmates and disobedient and violent to your teachers.
[Name], please know that when we become rude, violent, and disrespectful to others, we start losing respect and a good name. People eventually start avoiding us due to our offensive and hurtful demeanor. In this way, without realizing it, one could shrink their social circle and lose friends. Similarly, rude behavior becomes part of our personality, which negatively impacts everything in our life.
I hope you will pay heed to my written advice. I also expect a brief note of explanation of your bad behavior in class that should reach my office by tomorrow. Thank you.
Truly,
[Name]
[Designation]
[School name]
[Signature]