1. To attend the funeral
Please accept this as my official request to be exempted from attending the XYZ meeting tomorrow afternoon. I will be taking a short leave at around 12 pm tomorrow in order to be able to attend my neighbor's funeral who lost his battle with cancer this morning. It shall be very kind of you to approve my request.
2. To attend a wedding
I seek your approval for leave next week on account of my younger sister's wedding. Since it is going to be a traditional Eastern event, the main wedding functions will take 3 days in addition to two extra preliminary celebrations. Being the eldest brother, I have to attend all the functions. I, therefore, request to take off from the office starting from 12th to 18th March.
I have already winded up the work on my section of the monthly report. My team will carry out the rest of the job. I shall be available on phone throughout the week in case my help is needed for any task.
I look forward to your cooperation.
3. To attend the meeting
I would like to inform you that our client, Miss XYZ has requested to reschedule our meeting. It will now be arranged on Wednesday, 16th August as per her request. In view of this, I seek your permission to be exempted from attending the Human Resources workshop due on the same day.
Miss XYZ is one of our valued clients. It is important to give priority to her request. I am sure you will agree with me.
Please contact me for any further discussion regarding the matter.
4. To attend the burial
I beg to state that I need to leave the office tomorrow, 7th June in order to attend my uncle's burial.
I await your approval.
5. To attend an event
I respectfully request you to grant me leave this Thursday, 10th April. I have to attend an event at my kid's school on the mentioned date.
I will brief my team member, Meezo to attend to the client queries during my absence. I will also make sure no important client meetings are scheduled for that day. In addition, I may be reached on my number at any time in case of any issues.
I will appreciate your cooperation.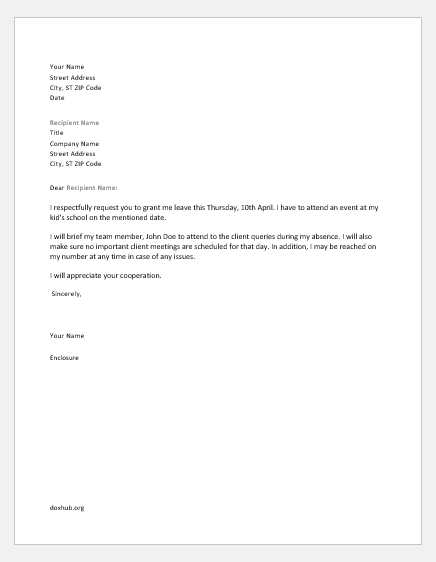 6. To attend a family reunion
I seek your permission for a leave from work on the coming Friday, 28th July. I am having a family reunion over the weekend in Panama at my parent's house.
My brother is visiting us from the UK after 8 years. I will leave for Panama on Friday in order to be a part of the reunion. I will be driving back to NYC on Sunday night to be able to attend the office on Monday morning. I assure you there will be no changes in the plan and I will not miss any more workdays.
It will be very kind of you to grant me the requested leave.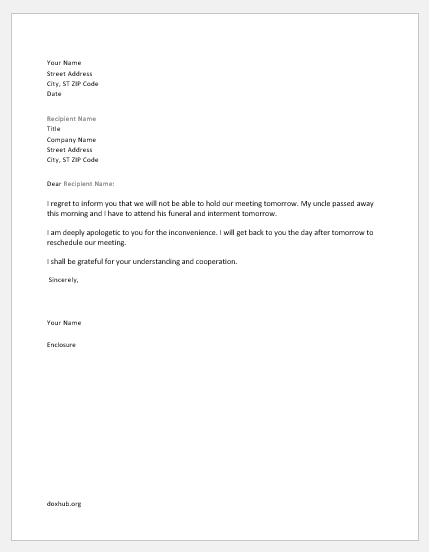 7. To attend the interment
I regret to inform you that we will not be able to hold our meeting tomorrow. My uncle passed away this morning and I have to attend his funeral and interment tomorrow.
I am deeply apologetic to you for the inconvenience. I will get back to you the day after tomorrow to reschedule our meeting.
I shall be grateful for your understanding and cooperation.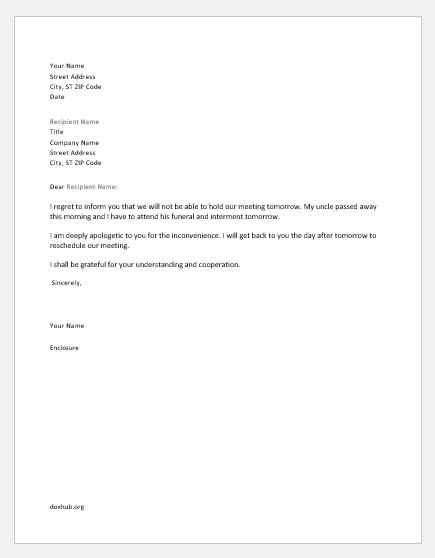 8. To attend the seminar
I am writing to request an extension of the deadline for our XYZ report. As you have been informed, HR has selected me to attend the 3-day long ABC Seminar in Los Angeles next week. As a result, I will be unable to work on the report during this time. I, therefore, request you extend my deadline to the 16th of March.
Kindly let me know if you would like to discuss the matter in person. I look forward to your response.