1-
Subject: Looking for job position as [X]

Dear Sir,
My name is Paul Adams, and I am sending you this email because I have come to know that there is a job opening for assistant manager finance in your company. I have done a master's in business administration and I feel much more confident in assuming this charge which also suits best my analytical and professional skills. You know that I have assumed the same rule in your company for more than five years and I had to leave the company for some personal reasons, but I think that I fine-tuned and able enough to deal with your daily financial matters.
The time since I resigned from [COMPANY], I spent more than three years in various organizations while working on various positions and during this course of time, I have groomed myself in the field of financial administration. Now, I am keen to find my way back into your company. With my exceptional and top-notched skills, I know your business requirements very well. I have refined my skills in the best way, and I am sure to bring an element of innovativeness in your business to develop and explore it across the country.
Although I know that somewhere in your mind, this might be prevailing that I left your company but I was forced to resign owing to some unavoidable circumstances. Now, since this job is opened in your company, I assure you that by keeping the organizational goals in my mind, I can contribute my best towards its well-being. Waiting for your positive reply in this regard.
Sincerely,
Johnson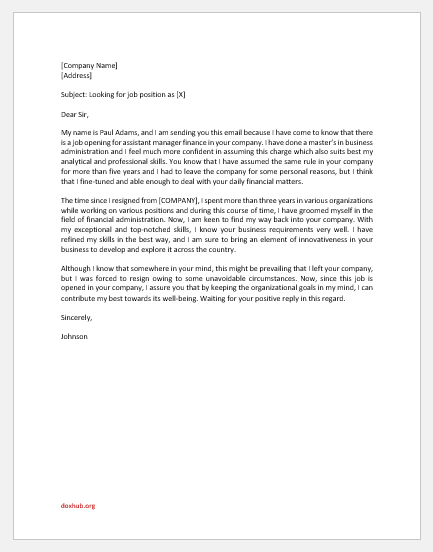 2-
Subject: Looking forward to rejoining [COMPANY] as [X]
Dear Sir,
My name is Clarke and I had been working in your organization as an assistant manager sales five years back. Through this letter, I want to ask about new job openings in your organization. I worked in your organization for more than ten years and during this period, I gained a lot while working under your kind supervision. But then, due to some family problems, I had to move abroad, and I had no other choice but to resign from my position. Hence, I left your company and moved abroad with my family.
During my stay abroad, I earned a master's degree from [university name] and worked in various organizations in different positions. In this way, I groomed myself and polished my professional analytical skills. Last week, I came back to my home country and now I am in need to join a company on an immediate basis. This is true that I resigned from your company according to my own will and I have no right to ask you like this, but you know that I had to resign because I was moving otherwise, I would have stayed longer with you.
Now, I want to ask you if there is any possibility for me to rejoin your company in the same position where I had been working on. Otherwise, if that position is not vacant, I have attached my resume along with this email. Please view it and adjust me to any other suitable position according to my qualification and experience, if there is any job opening in your company. Thank you very much for this favor.
Yours sincerely,
Paul Adams