1-
The purpose of writing this letter is to complain about the poor delivery system of your company. I have been sending things from your courier service, but I am facing this issue for the last two months. On Monday 12 September 20XX I had delivered a package via [X] services and handed over to one of the workers there. I am so much worried and stressed regarding your poor services as one and half month has been passed but the package has not been delivered to the concerned person. I emailed the concerned authorities many times, but I was not answered even a single email. Not only this I had also called many times in your head office, but I was not responded satisfactorily. So, the last option left for me was to send this concern letter to you.
As I am not responded satisfactorily it means that the package has lost by your employees. I have also signed the receipt and details and have attached it along with this letter so you may have look at them.
I want you to ponder over this matter as the item was very costly and I had sent it to my customers in Hampshire. I want to know now that either the package has to be delivered or it has been lost. If it has been lost, then I want you to return the money or make some other arrangements regarding it. Your courier service was one of the best services in the city and I was your regular customer. These kinds of incidents can damage the reputation of your company that you have established after a lot of hard work. I request you to examine the matter within a week and respond. I would be thankful to you for investigating the matter. Waiting for the answer to this letter!
Regards,
[Adam Bede]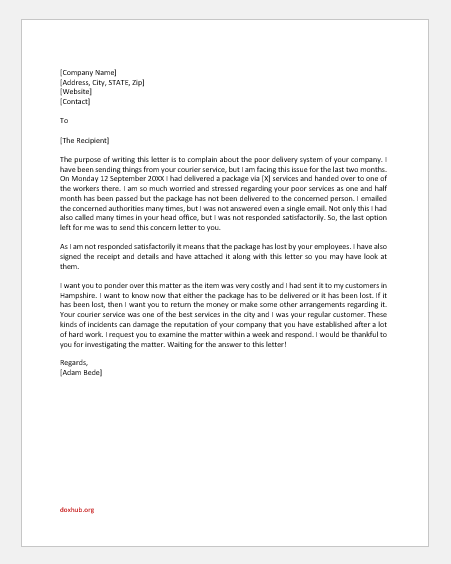 2-
Dear Mr. Lipkin,
I am Joseph Sidney, the head of ABC Organization in Brooklyn. I am writing this letter to draw your attention to a very important issue regarding the late and poor delivery of your services. Two months ago, I sent my admission form through your services, but my form was delivered on time and as a result, I did not appear in the test. This time I am also facing the same issue. I had sent a courier via your services to New Jersey to my wife and I was told that it will be delivered within the next four to five days. Three weeks have been passed but the courier has not been reached yet. For further investigation, I had called your company's office situated in Brooklyn and I was told that the mentioned good is not in their record.
I had chosen your courier services by cindering it the best services, but I was not expecting this. I am not getting a proper answer from your employees that either they have delivered my courier or not. I have all the official records and all the details have been mentioned on the receipt affixed with this letter. I want you to have a look into this matter and respond to me as soon as possible.
If such kinds of incidents continue to occur, then no one will trust your services. All the details of the product color, shipment number, and receiver's name have been mentioned in the receipt. I request you now to go through the matter and try to solve it as soon as possible. It would be a great favor on your behalf to respond to me immediately. If you want more details on this matter, then you can contact me on my phone number, or you can send me an email. Thank you.
Regards,
Joseph Sidney