1-
My name is Robin Johnson and through this letter, I am expressing my intention to apply for a recently announced post of assistant manager in your organization. What I want to mention here is that I have been with [ABC] company for more than five years as a marketing manager and I feel that I have gained enough experience in this field to groom myself as a professional business marketing manager.
I feel that I can make a significant contribution to your company's development because, having worked there for more than three years, I am familiar with the routine matters and functioning of your organization, and the nature of work in your organization was understood by me in the best way.
It is clearly indicated in my resume that I have made an advancement in my professional behavior after working in various organizations in various positions. My current roles in my current organization are to conduct market research, performing the market analysis, analyzing the reports, and based on reports, making an inference as to how to devise various marketing strategies.
Moreover, I was also engaged in marketing research projects and this helped me devising various marketing strategies for my organizations. In addition, I have also enrolled myself in various professional courses and developed my communication and interpersonal skills as well. Now, I am confident to bring an element of innovativeness to your organization by virtue of my previous roles.
I am looking forward to discussing with you, my roles in more detail during an interview session. If you need any information beyond my attached CV, I can be contacted. If convenient, I am also ready for an interview whenever you want me to appear before you. I thank you in anticipation for considering my request.
Yours sincerely,
Robin Johnson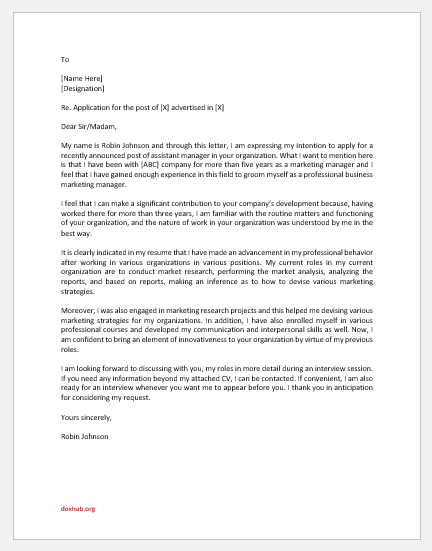 2-
Manager HR,
I am feeling a great pleasure while informing you through this letter that I tend to reapply for the recently advertised post of chemical analysis expert in your organization. Having worked in your organization before, I am well aware of the work ethics and working environment and about all the analytical procedures being carried out in your organization.
It has been mentioned in my detailed CV attached with this letter that I have worked in your organization in the same position before. Somehow, to carry on my higher studies, I had to leave your organization. During my stay abroad, along with my studies, I also worked on various research laboratory research projects for the company. My responsibilities were conducting various chemical analyses, working with various laboratory safety techniques, generating laboratory reports, and making inferences on the basis of chemical analysis reports.
Now, since I have completed my higher degree and returned, I am looking forward and tend to reapply for the advertised post in your organization. Since I have worked in this position, I am sure I can prove myself the best option because my previous roles have been coherent with your requirements. In addition, I have also been bestowed with the enthusiasm and right set of skills to make my contribution to your organization.
I hope you take my request in a positive way and will give due consideration to this letter. I am thanking you in anticipation.
Yours affectionately,
Amelia Robert