Letter to decline a gift from client
It is very kind of you to have me gifted a beautiful vase. How can I forget our last meeting when I accidentally mentioned you about the very thought of buying the vase for my home décor? I really appreciate and respect your feelings for sending me the vase.
Unfortunately, I cannot accept this gift of generosity from you as it is strictly against the company policy to have gifts accepted from clients. Considering the fact, I am returning the gift to you with a thank you for taking time and effort for buying me the gift. I hope to work with you for further associations.
2-
Yesterday, early morning I received a gift box from you. When I opened it, I was surprised to see a diamond ring packed gracefully in the box. I am pleased by your thoughtfulness of gifting me with a ring and appreciate your choice as well.
But unfortunately, I cannot accept gifts of such high value. For this reason, I am sending back the gift to you. Thank you for thinking of me while buying the valuable ring.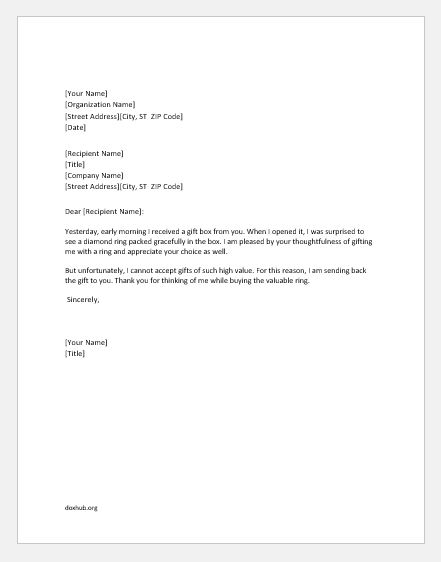 3-
It is very generous of you to have me gifted a silver keychain. I've always admired silver and have loved to have one. I am thankful to you because of the very thought of giving me a gift but I am afraid that I cannot accept the gift.
We as employees of ABC Company are prohibited to accept gifts from either client with whom we are working or potential clients as well. I am sorry, but I am returning the gift to you. Once again thank you very much for considering me one buying the gift.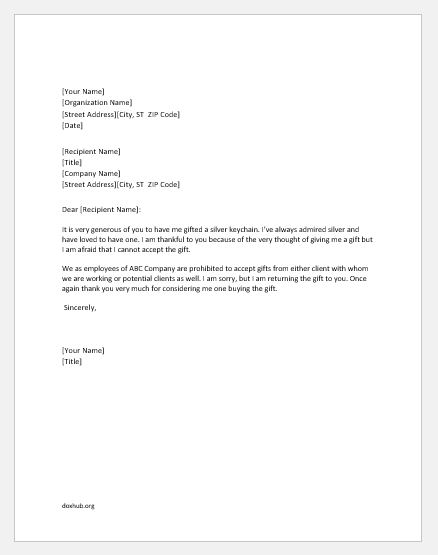 4-
I have received your gift of a necklace in the morning. I was delighted to see the necklace but when I read the underneath note I decided to return the gift. On occasions, you have shown me a willingness to marry me and this gift too is meant to show your willingness.
Earlier, I had ignored it. But now I need to tell you that I have been happily married for the past 2 years and accepting such gifts now seems inappropriate. I thank you for buying me such a beautiful and a valuable gift.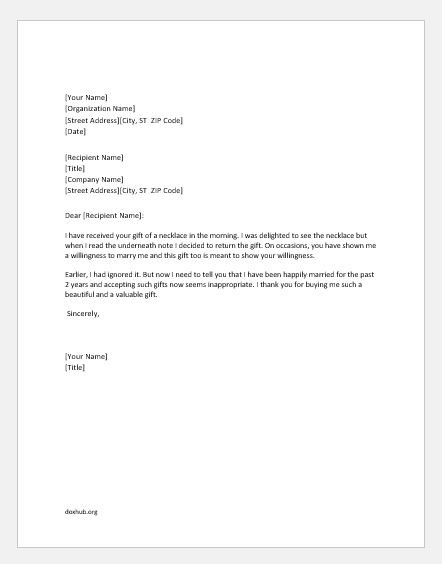 Letter to decline a gift from vendor
First, I would like to say thank you so much for your attractive and awesome gift. It was a great surprise earlier in the morning to receive such an amazing gift from your company. The gold watch is wonderful and I love to wear it. I am grateful to you for your generosity. This precious gift will boost my confidence level and enhance my mental abilities which lead towards increased productivity.
But I am sorry to say that this is not possible for me to accept your gift and I have to decline it for certain reasons. Our company has formulated strict policies regarding acceptance of gifts from vendors. As per existing rules, employees are not allowed to accept gifts from vendors. As far as your gift is concerned, it is worth three times my monthly salary and I am not comfortable to accept it. I don't want anybody to raise finger on me.
We have been in business relations since last seven years and you are an important vendor for our company who supported us through thick and thin. I don't want to hurt your feelings of love, but I must decline your gift with heavy heart. I hope you will understand my words and help me follow the company rules in letter and spirit. Once again thank you for showing your generosity.
Letter to decline a gift from friend
I would like to say thank you for sending me a beautiful diamond ring as a gift. The gift was wonderful, and it surprised me a lot. I always love to wear diamond ring on my index finger. I appreciate your generosity. But I regret to say that I must decline your gift. I understand that it hurts when your best friend offers you and amazing gift, and you decline it straight away. I don't want to hurt your feelings and that's why I am writing you this letter to make sure you are not offended.
I am not accepting your gift for certain reasons. I believe that you sent this gift for some romantic reasons because it was packed in a heart shaped box. I don't know whether it is true or not but our friendship must remain friendship. It must not take any other form because I am not intended towards reciprocating this kind of relation.
For instance, if I accept your gift, I am afraid it would give you false hope and this is something which must not be happened to you. Moreover, your gift is more expensive one and I am not comfortable to accept it. I do not know that how did you manage to purchase such an expensive gift and as far as I know, this is far from your buying power.
I hope you understand my condition. Thank you again for your generosity.