Letter -1
It is very kind of you to have me gifted a beautiful vase. How can I forget our last meeting when I accidentally mentioned you about the very thought of buying the vase for my home decor? I really appreciate and respect your feelings for sending me the vase.
Unfortunately, I cannot accept this gift of generosity from you as it is strictly against the company policy to have gifts accepted from clients. Considering the fact, I am returning the gift to you with a thank you for taking time and effort for buying me the gift. I hope to work with you for further associations. Download
---
Letter -2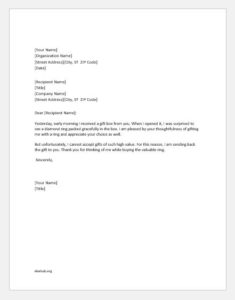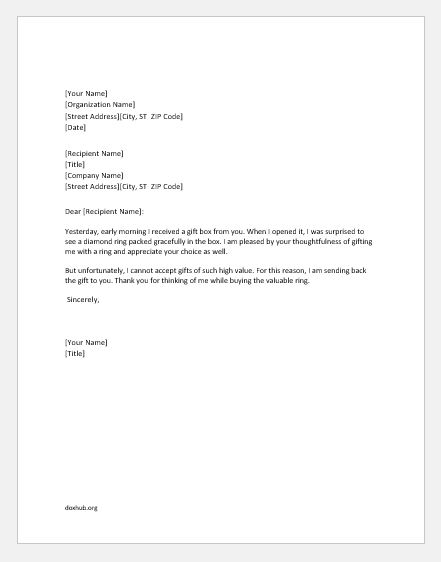 Yesterday, early morning I received a gift box from you. When I opened it, I was surprised to see a diamond ring packed gracefully in the box. I am pleased by your thoughtfulness of gifting me with a ring and appreciate your choice as well.
But unfortunately, I cannot accept gifts of such high value. For this reason, I am sending back the gift to you. Thank you for thinking of me while buying the valuable ring.
---
Letter -3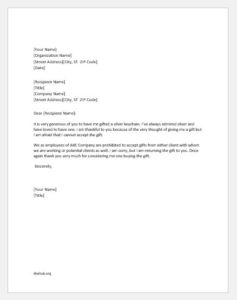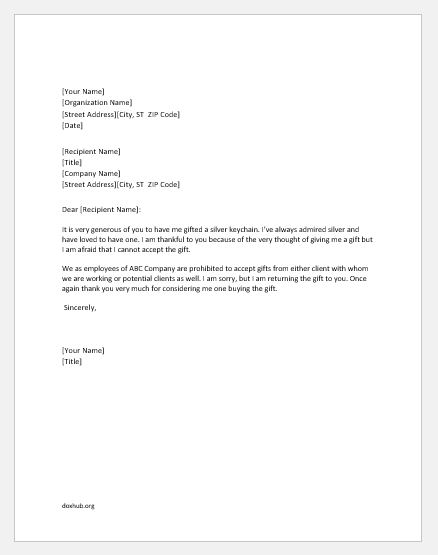 It is very generous of you to have me gifted a silver keychain. I've always admired silver and have loved to have one. I am thankful to you because of the very thought of giving me a gift but I am afraid that I cannot accept the gift.
We as employees of ABC Company are prohibited to accept gifts from either client with whom we are working or potential clients as well. I am sorry, but I am returning the gift to you. Once again thank you very much for considering me one buying the gift.
---
Letter -4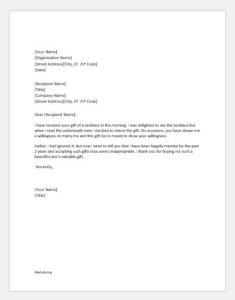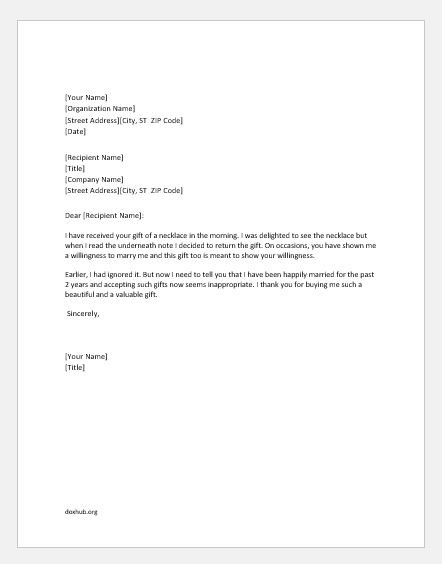 I have received your gift of a necklace in the morning. I was delighted to see the necklace but when I read the underneath note I decided to return the gift. On occasions, you have shown me a willingness to marry me and this gift too is meant to show your willingness.
Earlier, I had ignored it. But now I need to tell you that I have been happily married for the past 2 years and accepting such gifts now seems inappropriate. I thank you for buying me such a beautiful and a valuable gift.