Letter -1
It is both advantageous and satisfactory for us to have a loyal customer like you. We have had good business days and undoubtedly, we admire your corporation with us in great business deals. However, from a couple of months, we are noticing few distractions in this manner. The last two checks you issued for the deals we finalized in summers were bounced by the bank.
You must be aware of the consequences of such mistakes in business deals. The bank has issued NSF fees for you to deposit. On the other hand, it is to acknowledge you that the company will no longer accept checks from you in future for any business deals. Rather you must pay with cash or credit cards.
We hope you will investigate this matter personally and try to reconnect us to solve this important issue. Download
---
Letter -2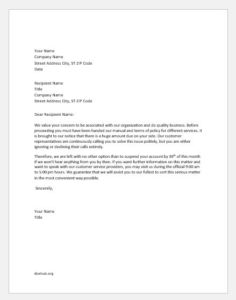 We value your concern to be associated with our organization and do quality business. Before proceeding you must have been handed our manual and terms of policy for different services. It is brought to our notice that there is a huge amount due on your side. Our customer representatives are continuously calling you to solve this issue politely, but you are either ignoring or declining their calls entirely.
Therefore, we are left with no other option than to suspend your account by 30th of this month if we won't hear anything from you by then. If you want further information on this matter and want to speak with our customer service providers, you may visit us during the official 9:00 am to 5:00 pm hours. We guarantee that we will assist you to our fullest to sort this serious matter in the most convenient way possible. Download
---
Letter -3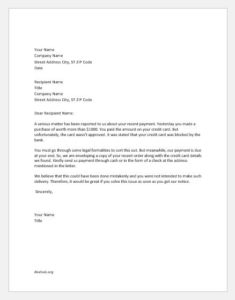 A serious matter has been reported to us about your recent payment. Yesterday you made a purchase of worth more than $1000. You paid the amount on your credit card. But unfortunately, the card wasn't approved. It was stated that your credit card was blocked by the bank.
You must go through some legal formalities to sort this out. But meanwhile, our payment is due at your end. So, we are enveloping a copy of your recent order along with the credit card details we found. Kindly send us payment through cash or in the form of a check at the address mentioned in the letter.
We believe that this could have been done mistakenly and you were not intended to make such delivery. Therefore, it would be great if you solve this issue as soon as you get our notice. Download
---
Letter -4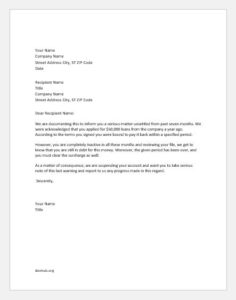 We are documenting this to inform you a serious matter unsettled from past seven months. We were acknowledged that you applied for $50,000 loans from the company a year ago. According to the terms you signed you were bound to pay it back within a specified period.
However, you are completely inactive in all these months and reviewing your file, we get to know that you are still in debt for this money. Moreover, the given period has been over, and you must clear the surcharge as well.
As a matter of consequence, we are suspending your account and want you to take serious note of this last warning and report to us any progress made in this regard. Download