An NGO is a non-government organization that usually works for a social cause. They operate independently and their purpose is usually a humanitarian cause. Some NGOs may have a widespread network and may operate on several social causes at once.
These organizations play a very important role in philanthropy and international associations. They get funded by a variety of sources such as wealthy individuals, charity money, or donor organizations. The key to getting funding for NGOs is writing a convincing funding request letter to the donor. The letter needs to be well written and professional. It should have an emotional appeal to it so that you can earn the trust of the donor. Following are some of the important points to consider while writing such a letter.
Provide details about your organisation. You can mention any previous social work the organisation has done and attach any documents to support that too. This will help gain the trust of the donor.
Pick your donor carefully. You must pick a donor who has previously showed interest in donating for a social cause or has made donations earlier. Research him carefully before sending the letter. Do not be disheartened if he makes only a small donation. Every bit of money will count when you are collecting funds.
Make sure you sound convincing and have an emotional appeal to the letter. You can mention any people or children whom you've provided support for through your NGO. You can even mention their names and write a little about how your NGO has changed their lives to add a personal touch to the letter.
Keep in mind that it is indeed a professional letter. Do not get too casual while writing it or adding details about the people NGO helps. Also, do not make it look like you're forcing them to pay you money. Always be respectful of their decision, even if they decide not to donate to your charity.
Invite them to visit your NGO and meet the people you help personally. This will gain the donors confidence and make them belief that their money is indeed going to the right place.
Try not to make it look like you have any personal gains from this funding. Make the letter about the organisation, not about you. You should write a letter only as a representative of the organisation itself. Do not mention any great work you've done personally because that may seem sketchy to the donor. As mentioned previously, you can attach any proofs of previous work the organisation has done so the donor party trusts you.
Following is an example of an NGO funding request letter.
Sample Letter
To
Ms. Megan Philips
Lockwood Agency
East London
From
Ms. Scarlet Ronan
SaveHuman Organisation
Central London
Date: 7th Sept 20XX
Subject: NGO funding request letter
Dear Ms. Megan,
Good day!
I am writing on behalf of our organization called SaveHuman located in Central London. We have been operational since March 20XX and our objective is to provide shelter to homeless children. We at SaveHuman believe that every child deserves love and a safe living environment. With the help of many gracious donors, we were able to sustain a shelter that is currently home to 300 children. Many of these children are orphans and some have been abandoned by their parents. We aim to provide a comfortable living environment to all our children and regard them as our own.
This shelter is funded by generous donors such as your organization. We need funds for supplies like food and clothing for our children. With some financial aid to our organization, you can help make a huge impact on the lives of these precious children. Even a small donation would be much appreciated. We have a goal to collect $5000 this month which we wish to invest in getting warm clothes for them as winter is approaching. You can make this donation directly to our NGO account number [X].
You are welcome to visit our shelter and meet our children anytime you wish. Please don't hesitate to get in touch with us at [EMAIL].
Thank you very much
Regards
Scarlet Ronan.
Signature.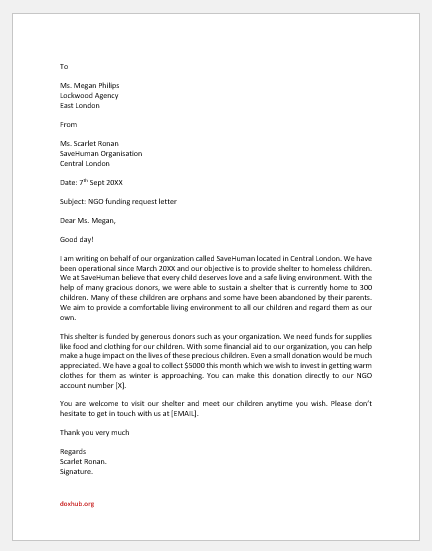 Size: 22KB