Sample 1
Following the job advertisement for the post of mechanical engineer given by our company, we have received numerous job applications. Amongst them is a candidate named Mr. Meezo who has been shortlisted by us. Meezo has been a former employee at your company by which he has stated your name as his primary reference.
Though his skills and qualifications match the job requirement and his areas of expertise also go well along with his field but still, we need to inquire about certain things regarding Meez0. This process requires us to meet you and get a more detailed picture of him so that we may be able to make a quick decision on whether to hire him or not
We will be obliged if you by some means take out some time to talk with us either in person or by phone. Thanking you in anticipation. Hope to hear from you soon.
Sample 2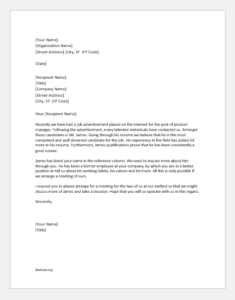 Recently we have had a job advertisement placed on the internet for the post of product manager. Following the advertisement, many talented individuals have contacted us. Amongst these candidates is Mr. James. Going through his resume we believe that he is the most competent and well-deserved candidate for the job. His experience in the field has added lot more to his resume. Furthermore, James qualifications prove that he has been consistently a good runner.
James has listed your name in the reference column. We need to inquire more about him through you. He has been a former employee at your company, by which you are in a better position to tell us about his working habits, his nature and lot more. All this is only possible if we arrange a meeting of ours.
I request you to please arrange for a meeting for the two of us at our earliest so that we might discuss more of James and take a decision. Hope that you will co-operate with us in this regard.
Sample 3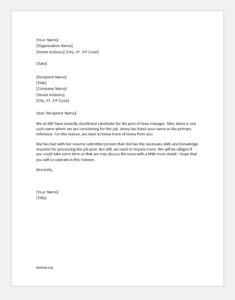 We at ABC have recently shortlisted candidate for the post of Area manager. Miss Jenny is one such name whom we are considering for the job. Jenny has listed your name as the primary reference. For this reason, we need to know more of Jenny from you.
She has had with her resume submitted proven that she has the necessary skills and knowledge required for processing the job post. But still, we need to inquire more. We will be obliged if you could take some time so that we may discuss the issue with a little more detail. I hope that you will co-operate in this manner.