1. Service Acceptance Letter
I am delighted to inform you that XYZ Company has accepted you as its official catering service for all company events and parties. You will be hired on a contractual basis for a duration of 2 years. This contract may be extended after the mentioned period considering the quality of your service.
Please find enclosed our contract agreement. Kindly go through our terms and conditions before signing the contract. Submit the signed agreement to us by the 11th of April.
In case you have any questions or concerns, you may contact our HR department during office hours.
We wish you all the best and look forward to your services.
2. Service Confirmation Letter
This is to confirm that the [XYZ] Agency is hired by our company as our media manager. Accordingly, your agency will be a part of our team with effect from 21st November 2019. We welcome you aboard and expect a good quality of service from you.
Enclosed herewith is our official contract to be signed by the General Manager, XYZ Agency. Kindly sign the contract and send it to us within 2 weeks of this confirmation letter.
3. Service Introduction Letter
Doe Sports Club is delighted to introduce to you the new children's swimming pool. We are offering a free one-month trial to our existing members. We would love to make your children a part of our club.
The pool has been specifically designed keeping in view the safety of kids under 12 years of age. Our specialist staff will provide lessons for your child in order to perfect his swimming techniques. Well-trained security guards will also be at the pool round the clock to ensure the utmost safety of your precious angels. So, while you are engaged in another sports activity at our club, your little one will be taken well care of.
Don't miss the opportunity to let your kids enjoy this healthy activity. Register your child today so that he may begin his swimming classes soon.
4. Service Inquiry Letter
I am John Doe, Manager of the IT Department at XYZ Company. I would like to inquire about your internet packages including your rates as well as the speed and volume you offer.
My company requires high-speed internet connectivity for its call centers. We need to maintain flawless communication with our international clients and cannot afford any glitches in the connectivity. Kindly let me know if you can cater to our requirements.
I would appreciate a quick response from you. You may email me or reach me at the given phone number.
5. Service Promotion Letter
Fun Bakers are excited to introduce new flavors for your favorite fondant cakes. Now you can customize your cakes with any flavor you desire be it the classic vanilla, the tempting chocolate or tangy citrus fruit. Please have a look at the enclosed brochure to discover the entire range of delightful tastes we now offer.
We have been serving our lovely clients for half a decade. Fun Bakers specialize at creating perfectly customized fondant cakes for your birthdays, anniversaries, weddings and other occasions. Owing to the high demand for our cakes and other goodies, we operate 3 outlets in Ohio,
Alabama, and Alberta.
We strictly abide by the rules set by the Food Authorities in order to ensure delivering the highest quality products to our customers. We are also ISO1234567 certified for health and safety.
Book your order with us today for a scrumptious cake. Call or email us to tell us about your requirements. We would love to hear from you.
6. Service Proposal Letter:
On behalf of the House of Writers, I would like to offer your prestigious company our content writing services. We are a team of qualified and experienced writers working in this field for over 5 years. Please find enclosed our company's portfolio.
We can help you maintain your online media presence by composing beautiful and catchy content for your products. Additionally, we are also experienced in creating press releases and writing product reviews.
We have worked for a number of clients and have been able to fulfill their specific requirements quite aptly. We can create customized content according to your needs to help you beat the competition through well-crafted words. You can trust our professional team to give you the best results.
Kindly contact us on the enclosed phone number or email address. We can show you some samples of our writing upon request. Hope to hear from you soon.
7. Service Complaint Letter
XYZ Company purchased your internet package a week ago. Although you claimed good connectivity, we have been facing considerable issues. I am afraid to say your service has been highly disappointing despite your big claims.
We would like you to resolve the issue as soon as possible. Please send your technical team to our office tomorrow. We need to establish communication with important overseas clients. So, every minute counts for us.
Kindly make sure your team reaches our office at 9 am sharp tomorrow morning.
8. Service Certification Letter
This is to certify that XYZ Agency has served the Doe Company for our advertisement campaign in May 2019. The agency performed the assigned task well and came up to our expectations.
We appreciate XYZ for fulfilling our requirements and achieving the project goals. Moreover, the task was accomplished within the assigned deadline. It has been an honor to work with a well-disciplined and efficient team.
We look forward to availing of the services of XYZ in the future as well.
9. Service Recommendation Letter
It is my pleasure to recommend the services of John Doe who works as a freelance content writer. He has served us at XYZ Company for a year. During this time, he created and managed content for our websites.
John is capable of writing on a number of different subjects. He is also efficient at search engine optimization for online content. Most importantly, his writing is unique and original.
It has been a good experience having John work for us. I can confidently say that he is going to fulfill your requirements perfectly.
Please contact me at (email ID) for further information or queries.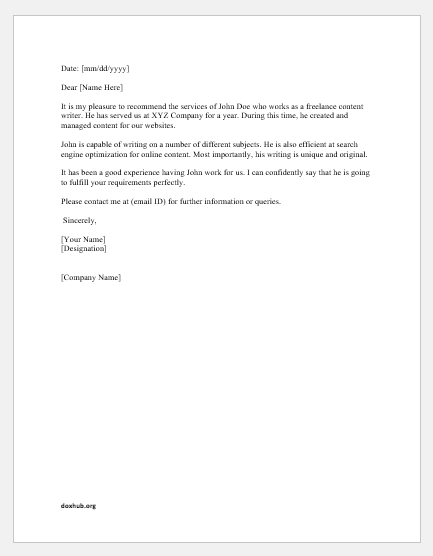 File: Word (.doc) Size 17 Kb |
Download
---
10. Service Appointment Letter
This is in response to your job application received on the 12th of May. Through this letter, we would like to confirm your appointment for your accounting services. Your job description and salary details are discussed in the enclosed contract.
Kindly go through our terms and conditions and send us the signed contract by the next Monday. You may contact the HR Manager to discuss any concerns.
11. Service Cancellation Letter
I am writing to cancel the contract with Doe Cleaners since I am moving out of town. I really appreciate you for your good services and would like to thank you for your work.
Please find enclosed a check for this month's payment. Your cleaning team does not need to come to work from 15th November onwards.
12. Service Registration Letter
I would like to sign up for your lawn mowing and gardening services. I have enclosed the registration form along with a check for the required registration fees. You will also find enclosed my address details. I would like you to start working for me from the 12th of April.
I look forward to your services.
13. Service Transfer Letter
XYZ is delighted to inform you that the inauguration of our new outlet will take place in 3 months from now in New York. Keeping this in view, we would like to request you for a service transfer to the new outlet.
Owing to your experience and good quality of work, the new branch requires your services more. We will make arrangements for your transfer including a pay raise.
Kindly let us know by the next week of you are interested in the offer.