Daylight Saving Time Activity Page
The method of setting the clocks forward one hour in the summer months and then when it comes back to winter, putting them one hour back is known as DST (Daylight saving time). This method is applied in the months of March and April and ends in the months of September and November. Different countries have different rules as they have different months of changing the time according to their weathers. With the passage of time; several changes occurred in it, but in today's history, the clocks are only put one hour forward. You can get the template for the Daylight saving time activity Page from our website and can make changes according to your requirement.
PREVIEW & DETAIL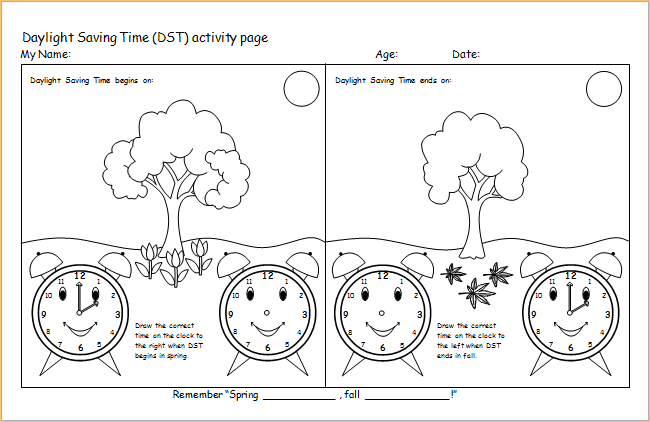 DAYLIGHT SAVING TIME ACTIVITY PAGE TEMPLATE
File Size: 106 KB mobile [Android+iOS] & iPad
Download Word (.doc) 2007 & 2007+
Groundhog Day Activity Page
Kids love coloring the Groundhog Day pages with a different drawing made on them and there are also the Groundhog Day activity pages with different games which are interesting. Matching word is an interesting activity for the children, the activity in which the kids are asked about the winter and spring plans is also great for learning something new. Kids are given the alphabets to make the words related to the groundhog and to make the activity attractive; an image of the groundhog is printed on the paper. Fill in the blanks are also given to the children to teach them about the groundhog and the things linked to the animal. You can get the template from our website and can make the necessary changes according to your requirement.
Groundhog Day ACTIVITY PAGE TEMPLATE
File Size: 106 KB mobile [Android+iOS] & iPad
Download Word (.doc) 2007 & 2007+