JOB SHEETS
Job sheets are made by the companies' heads for the employees who are working under their supervisions. These sheets are made for the employees' record that whether they are working up to the standards of the organization or not. Secondly, job sheets are made for the purpose of allotting the daily routine work to the employees. Every head or the manager of the organization has to prepare this sheet for its subordinate workers.
Job sheet templates are made for keeping the check and balance and also the record of the employee. Managers make these sheets according to employee job information and his work. This is done just because to keep the records or further promotions or any other bonus which the company will give to its employee.
There are few necessary things included in job sheet template; first and foremost thing is the name of the employee, secondly his employment number means the ID which is allotted to him, thirdly the list of the tasks which are allotted to him and at fourth the starting and ending time of the task this all is included in the job sheet template.
Furthermore, you may make job sheet on MS Word or MS Excel by using table tools. In it, you mention the title of the sheet along with its date and time and most importantly that date and time must be written on the top of the list.
Therefore, in business companies, the job sheet templates are made just to keep the record of the employees' day to day activities and keep an eye on their activities.
PREVIEW & DETAILS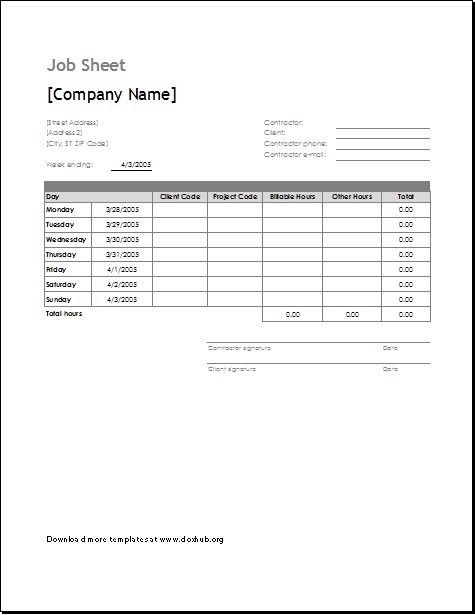 JOB SHEET TEMPLATE
File Size: 31 KB mobile [Android+iOS] & iPad
Download Excel (.xls) 2007 & 2007+
File Size: 21 KB
Download OpenOffice Calc (.ods)