1
Re. Veterans Day Observance Holiday on [DATE]
As it is clear from the subject, this letter has been written to announce a public holiday on [DATE] to celebrate Veterans Day. Veterans day falls on a [DAY], therefore, all the meetings and assignments for the day would be rescheduled later.
Mr. [NAME] can be referred to for any confusion or anything that can cause maladministration in project development, deadlines, and research submissions. No office work shall be conducted virtually or physically on the day in the honor of our veterans. New dates shall be announced for the meetings after rescheduling.
Veterans Day is celebrated to honor the veterans in the US military. You can observe Veterans Day by doing volunteering to the veterans, donations, or by giving delicious treats to the nearby veterans. Fly your national flag at your houses and celebrate the day at its full.
Please, visit the veterans of the military to pay homage and to recognize their services. These men are the real gems of our country who keep the country's stability at pace and keep every corner of the nation safe. We owe a lot to them. Try your best to observe the day giving them respect, recognizing their services at great risk of life.
From [DATE], office timings shall remain the same. In case of any change, you will be informed through email and text message. Thank you. Happy Veterans Day.
Regards.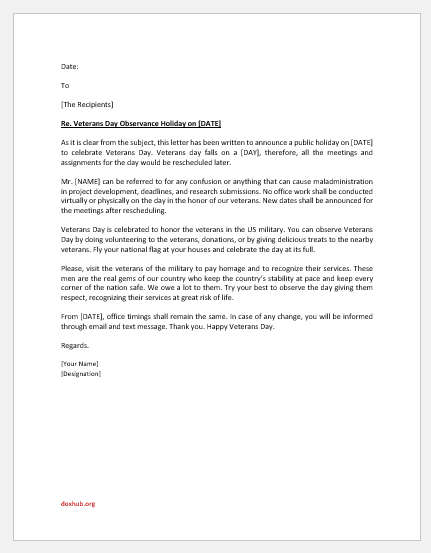 Editable Format: Size = 13KB
2
Re. Veterans Day Holiday Announcement
Here is another announcement bringing the greatest relief from work. We need to take out some time and celebrate the people who have facilitated us in every way. One of them is our military who risk every second of their life while abandoning their personal life, self-abnegation, and prioritizing their country. I am writing to announce a holiday that is observed to celebrate and recognize the services of our military veterans.
We announce the Veterans Day holiday which is coming on [DATE]. This day marks the recognition and acknowledgment of the military veterans and the services rendered by them. As the day is to highlight the enthusiasm, bravery, and courage of our military men, it should be celebrated with nationalistic zeal and zest.
We have arranged a dinner from the company to which many of the military veterans have been invited. All the employees are invited to the dinner with their spouses.
Celebrate the day by flying the flag at your houses and participating in public events like concerts and national commemorational events. As the Veterans Day is dated on [DATE], this holiday would be considered as a floating holiday as it collides with the weekend coming next to the Veterans Day. Thus, there would be a general holiday in the company from [DATE] to [DATE].
Our helpline shall remain open, in case of any urgency please call us at [HELPLINE NUMBER]. For further queries, refer to our official email address i.e. [EMAIL]. From [DATE], office timings will be from XX: XX to XX: XX with a [X] minutes lunch break. Thank you.
Regards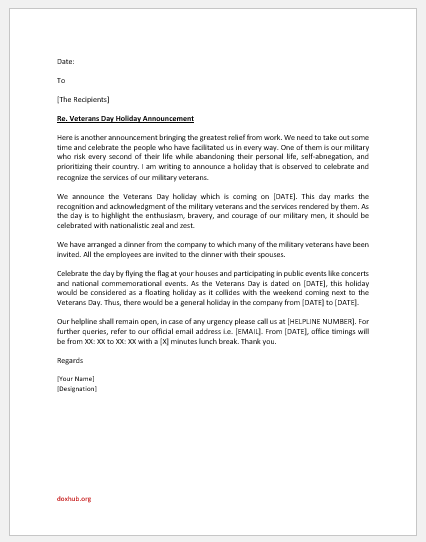 Editable Format: Size = 13KB