1-
Re. A Cordial Welcome Note to the New Captain

Dear Sylvie,
I am writing with the hope that this email finds you in great health. I am sure that you are excited to take charge as the new CEO of the Graham Ellibale Group of IT and Consultants (GEGIC) from Monday 25th January 20XX. Mr. Ronald Cedrick was a great boss and he made the best use of his competent authority and dedication to make this company in the highest position. Ronald was working very hard to keep things on track to make this company among the top 50 companies in the US. He had a dream to make this dream even higher and set a target of taking the company among the top 10 and so on. The dreams were high, and everything was in place when he died of the cardiac arrest and left the company in great shock.
I am looking at you with the same perspective and expect you to fulfill the targets set by Ronald. I looked at your profile on LinkedIn which left me with no words and I was wonderstruck by looking at so many diverse experiences of working at one of the best firms at such a young age. I am happy that you have that energy to take things up to the sky limits. I, on behalf of my team, welcome you warmly to the company and wish you the best in achieving what you have set forth. Thank you.
Regards
Steven Regis
The General Manager
Graham Ellibale Group of IT and Consultants (GEGIC)
34-c Edward Square, Illuminating Tower, California, USA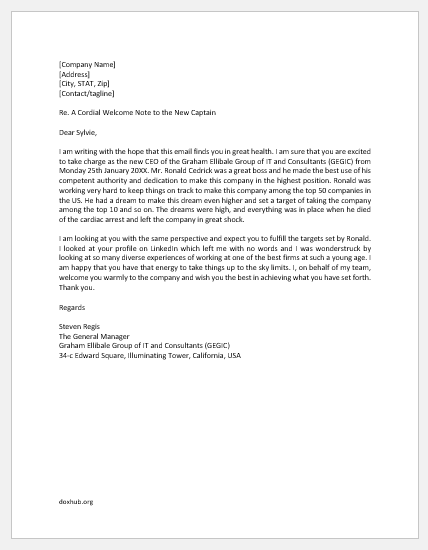 2-
Re. A Warm Welcome to the New Master Ready to Steer
Dear Benjamin,
I am Luc Rio from Linux Hill Consultants. I work as a General Manager in the organization. I came to know about the resignation of Mrs. Jeremy Clare from the designation of CEO due to her immigration matters. Also, with that, I was told that you are going to take charge as the new CEO of the company. I was overwhelmed to know that because I always aspired to work under your supervision. I was amazed to watch your performances at WcKL Groups and craved to meet you in person.
I am sure that working with you will prove to be very rewarding, co-efficient, and illuminating. I am looking forward to welcoming you in person in the office on 25th January 20XX. Our whole team welcomes you to take the charge and is very enthusiastic to work under your competent supervision. I am looking forward to your kind response confirming the joining date and time of your arrival in the office. Thank you.
Regards
Luc Rio
Linux Hill Consultants
The General Manager
45/2-B Edmund Brooklyn Street,
California, USA