START UP BUDGETS
Business start-up is not the easiest task known in the world. Understandably, you are bogged down by all sorts of issues expanding from formation of structure to management of the new business. These structural and management problems play an important role in the start of business but these problems could be overcome with the passage of time. The budget formation is one aspect of the new business which must be carefully estimated to start any kind of new project or business. Obviously, you won't be able to take the step back after the start of the business; therefore, one must be absolutely sure about the budget of business before the start-up of any business. For this purpose, the budget template would serve the purpose of budget management in an appropriate way.
This business starts up budget template will consist of lists of all the items separated by price demarcations. The budget template will contemplate the possibility of all the expenses before the start-up of the business.
This budget sheet will autonomously consider every single detail of expenditure to form out an effective budget for the start of the business. Although you would still have to make adjustments in the budget after the template formation but they will be of minor stature if the template is prepared in a professional manner. A professional template could be easily drafted on excel by considering all the basic rudiments and forming the budget expenditure for them. These budget templates would provide you with an extra push in your efforts to start the business.
PREVIEW & DETAILS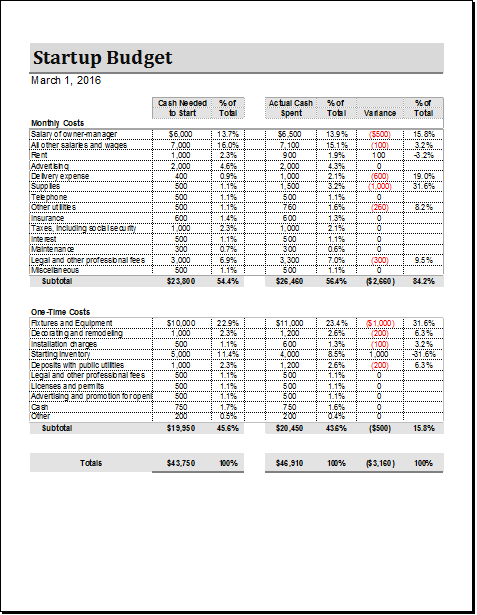 BUSINESS START UP BUDGET SHEET
File Size: 36 KB mobile [Android+iOS] & iPad
Download Excel (.xls) 2007 & 2007+
File Size: 28 KB
Download OpenOffice Calc (.ods)