Having a good and cooperative co-worker is a blessing. It leads to a positive work environment in which everyone is productive. People who don't get along with their co-workers often don't find the work environment to be supportive. At times, it becomes difficult to meet work-related goals because of the difficult people around you.
The good news is that you can easily handle those colleagues who don't follow work ethics and cause inconvenience to you in any way. Sometimes, we find that our colleague has a volatile personality. People with such personalities and attitudes can be handled easily in several ways. Writing a complaint letter to the boss can make you handle the situation well
What is a complaint letter for unprofessional behavior or co-worker?
At times, we see our co-workers behaving in a very unethical way. Sometimes, it affects us and sometimes it does not. Being a responsible part of the organization, we should always condemn the bad behavior of anyone. The best way to condemn is to write a complaint letter to the boss letting him know about the problem.
What to write in this complaint letter?
In the complaint letter written against your co-worker, you should make sure that you define the problem, and then you will have to tell that how the problem that is being caused by the employee is perilous for the environment at the workplace.
When to write the letter against your colleague?
In many situations, you must write a letter because you feel that that is the last thing that you can do before things start taking a turn to the worst. Below are some situations when you must write this complaint letter:
When the employee violates the company's policies:
Employees are usually expected to abide by the rules and policies of the company. These rules are implemented because they result in a disciplined work environment. So, when people violate these policies, they make the environment toxic for others. To handle this situation, you should write a complaint letter to your boss letting him know about the breach.
When the co-worker does not take work seriously:
Some people are always in the habit of evading responsibilities. They keep delaying the work they need to do and cause trouble for others too. If you are working with someone in a team or group and your work is getting delayed because one of the team members is not taking work seriously, you write the complaint letter to your boss.
When you want certain things to be changed:
At times, you write the complaint because you think that the company should take certain decisions to make the environment at the workplace better. For example, if you have had enough with your co-worker and you never spoke up, you can write the complaint letter to ask the employer to shift you to another department where you can work in peace.
There can be many other reasons to write the complaint. However, make sure that you can write the complaint in an appropriate way.
Tips for writing a complaint letter against your co-worker:
It is not always easy to write a complaint against your co-worker as it often leads to a permanent skirmish between you and your colleague that is never healthy for the company. So, the company itself never discloses who has filed the complaint. However, you should also mention in the letter that you don't want your name to be disclosed.
Before you make a complaint, make sure that you have conducted a thorough research and you are not going to say anything which is not true and is likely to malign the reputation of the person. It is recommended to come forward with facts and figures to support your complaint.
Your letter should not show that you have any personal grudges with the person to who you are complaining. For this purpose, try to keep your tone positive and make use of appropriate words. There is no need to unnecessarily criticise the co-worker. Just discuss the problem and leave the decision to your boss.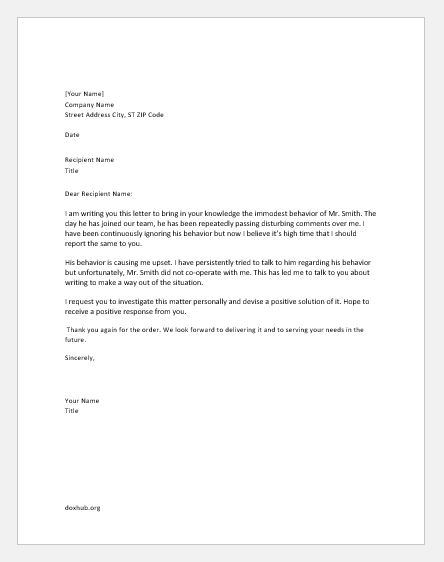 Editable Format: Size 13KB