1-
Re. Proposal to the Tender Notice no. 233B789/2020 dated 23-11-2020

Dear Tom,
I am writing this letter with reference to the tender invitation made on 23rd November 20XX. The tender notice no. is 23B789/2020. We are highly pleased to receive your invitation and it has always been one of the core desires to work with your team. I thank you on behalf of my team for inviting us to the tender and considering us all the way.
We have been dealing the construction projects since 2010 and hence it has been ten years in this forte, we have got this as our expertise. During these ten years, we have completed many projects for many high profiled companies which include SoundFourX Systems, The Bullet Body Deodorants, and many others like that. We have also worked with federal and local governments on many of the construction projects.
Our company is renowned for its durable products and a high potential for reliability. Many of the skyscrapers have been built by our team and the products used also belong to our company. The company is very well famed for its durable and quality products. In the same way, I assure you of the providence of quality services at your disposal.
We have also attached a few copies of our high-profile projects that would project the light to the dedication, commitment, and competency of our teamwork.
Two separate envelopes have been enclosed with the letter which consists of the EMD project plan and previous record of construction projects. I am looking forward to the earliest response from you. Please don't hesitate to write to us at [email]. Thank you.
Regards
EMD Planners and CO.
329-A State Line, Denver, USA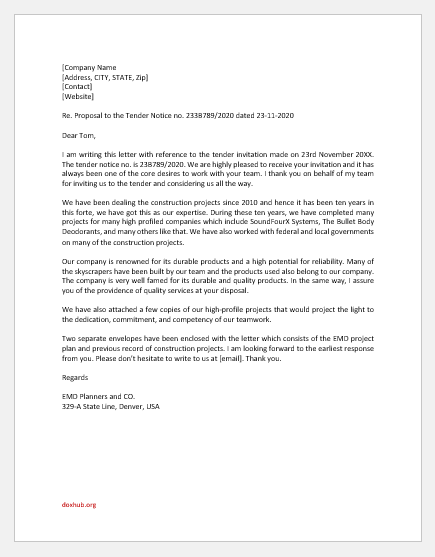 2-
Re: Proposal Submission of the Tender Notice no. 21ERw2/2021 Dated on 23-11-2020
Dear Jill,
I am Rose Nicholson, General Manager, from HRTY. First, I would thank you on behalf of Sagle Groups for inviting us to the tender on 23rd November 20XX. I am glad to present this proposal to you to review it against the project underlined by the tender notice number 21Rw2/2021 dated on 23rd November 20XX and due on 12th March 20XX. I cordially thank you for considering us for this project. We have studied every detail of the project minutely and now in a better position to submit the proposal on this project after a complete understanding of your requirements and goals.
I am very happy to see the mutual interests and mutual goals put forward. For the past seven years, we have been dealing with the expertise of construction equipment and tools. We have worked on many of the international projects too which includes Indian-USA trade corporates and some other projects in China, Ukraine, Singapore, and Italy. We assure you of the quality of the material and products and ready to write a commitment statement regarding the products.
This joint venture would be complemented by meeting deadlines, ferocious commitment, and dedication. We have made all the points clear in the proposal documents that have been enclosed with the letter.
For more, I would like you to write to us at [email] or call us at [X]. I thank you again for providing us this opportunity to participate in the project.
Regards
Rose Nicholson
General Manager, HRTY
23rd Flood, Romy Heights, California, USA