1-
Hope this message finds you in sound health. I am Robert Browning and have been working in [X] for the post of assistant project manager for the last four years. I have remained an efficient and engrossed worker during this time span and never gave you a chance for any kind of complaint. Neither I asked you for my promotion nor did I demand anything. The purpose of my writing this letter is to ask you for the salary for this month as it has been the 20th of the month and I am not paid yet. This has really proved a shock for me.
As you know that due to the prevailing pandemic situation in the country there has come immense downfall and everyone is afraid of it. Due to lockdown, we were not able to come to the office and were not paid even a single penny. I am now passing through a financial crisis as all the saved money I have spent in lockdown.
I had also put forward my complaint to the finance department but they did not do anything in this regard. Therefore, I thought to send this letter to you as I have no other option left. If you do not pay me within this week then I cannot work with full efficiency and will not be able to devote myself fully to work.
Keeping in view the above-mentioned situation I hope that you will give consideration to my request and will do something in this regard. I would be highly obliged to you for taking contemplation. Thanking you in advance.
Regards,
Luther Martin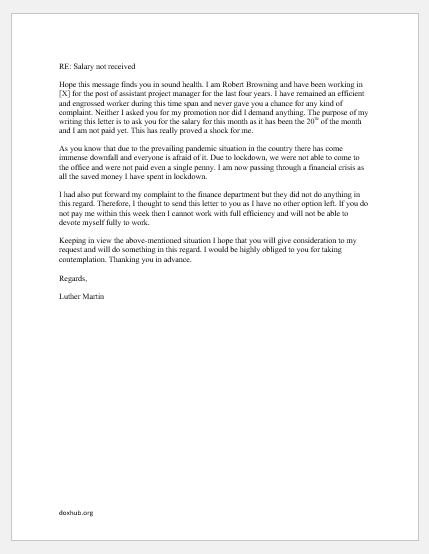 2-
Dear Mr. Neil,
Hope you have been doing well. This email is to notify you about my salary for last month that has not been transferred to my account. I am Moth Stalk and giving my services as a Project Assistant in your organization for the past seven years. Being an employee here, I have never faced as many difficulties as I am facing now. I have remained all these years' proficient and hardworking employee and did not provide any chance of complaint against me. I had written an email to the finance department's head Mr. Shielding but he did not give any satisfactory answer. So, for this reason, I thought to write to you directly.
Sir, I am a salary-based person and run my all expenses with this. After working the whole month, if you do not get a salary at right time then the entire circle gets disturbed. I have had to pay my house rent, grocery and electricity bills with this salary. I was responded negatively each time I contacted the finance department. Today is the 8th of December and I have not been paid the salary for this month.
I request you humbly to ponder over this matter and resolve the issue as soon as possible as I am running out of money nowadays. I will be highly grateful to you for assisting me in this matter so may I get my salary. Thank you in advance for taking into account my request. waiting for a positive answer from you.
Regards,
Moth Stalk