Letter -1
Half day leave application due to fever
This is to bring to your attention that I have been observing health issues since past few days but due to the project completion deadline, I was unable to take rest. This prolonged ignorance of my health has caused me severe fever today. I had tried my best to complete my today's tasks but unfortunately, I couldn't. I hereby request you to grant me a half day leave for today. I'll join the office from tomorrow morning. Download
---
Letter -2
Half day leave application due to PTM
This is to bring in your attention that my daughter's parent-teacher meeting is scheduled for today. Earlier, my wife had to attend the meeting but due to her illness, I'll have to attend the meeting now.
I surely understand that nowadays there is much work pressure on all of us but having you promised that I will complete my today's tasks from home, I hereby request you to please grant me a half day leave for today. I will resume my work from tomorrow morning.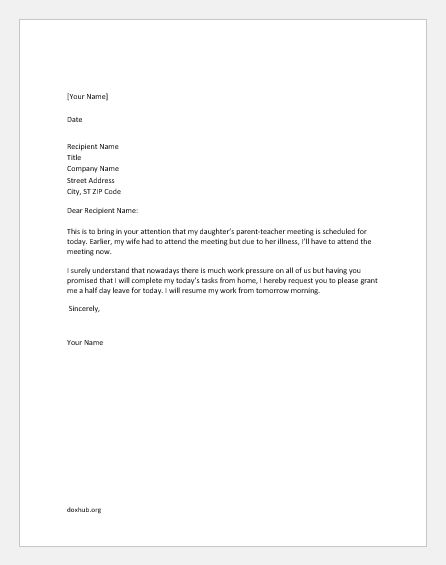 Sample Letter Template
---
Letter -3
Half day leave letter due to meeting with the bank manager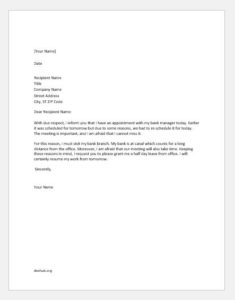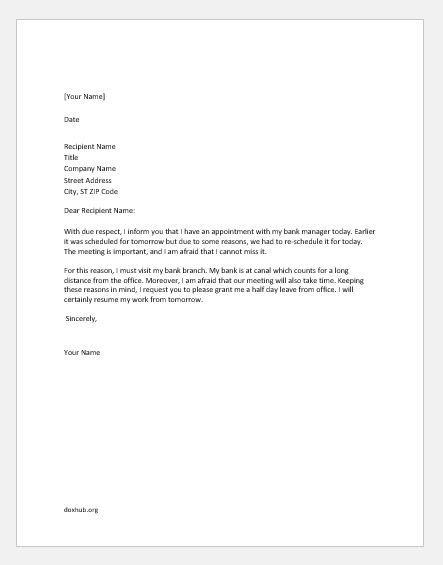 With due respect, I inform you that I have an appointment with my bank manager today. Earlier it was scheduled for tomorrow but due to some reasons, we had to re-schedule it for today. The meeting is important, and I am afraid that I cannot miss it.
For this reason, I must visit my bank branch. My bank is at canal which counts for a long distance from the office. Moreover, I am afraid that our meeting will also take time. Keeping these reasons in mind, I request you to please grant me a half day leave from office. I will certainly resume my work from tomorrow.
---
Letter -4
Half day leave letter for official work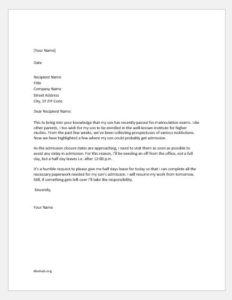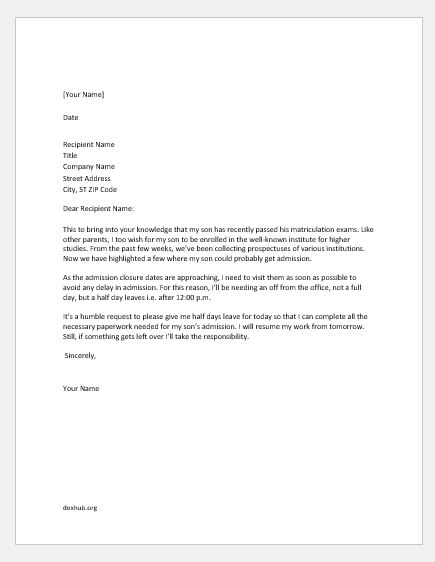 This to bring into your knowledge that my son has recently passed his matriculation exams. Like other parents, I too wish for my son to be enrolled in the well-known institute for higher studies. From the past few weeks, we've been collecting prospectuses of various institutions. Now we have highlighted a few where my son could probably get admission.
As the admission closure dates are approaching, I need to visit them as soon as possible to avoid any delay in admission. For this reason, I'll be needing an off from the office, not a full day, but a half day leaves i.e. after 12:00 p.m.
It's a humble request to please give me half days leave for today so that I can complete all the necessary paperwork needed for my son's admission. I will resume my work from tomorrow. Still, if something gets left over I'll take the responsibility. Download