1-
Re. Explanation of Buying Second Home
This letter intends to explain the reason behind buying a second home. I have received a letter from the House of Tax Department, Ministry of Housing Revenue and Taxation on 01-07-XX in which I have been asked to explain the reason behind buying a second home. On 23-06-XX, I sent my documents to the Ministry of Housing Revenue and Taxation (HRT) to approve the property in my name.
The house has been in North-18 of Giga Road, Orlando, Florida. The house is a single-story building on the fifth street of Giga Road. The house has been in a residential area with no commercial intrusions, legally or otherwise.
The reason behind buying a second home is investing in the real estate business. Due to COVID-19, I was laid off from PLD Groups in March 20XX. Looking into the unfortunate circumstances and finding myself in a whirl of disappointment from jobs these days, I concluded to start my own business. A second house can prove itself to be very fruitful regarding investment and taxation.
Because of all mentioned above, I need to buy a second home in the mentioned locality. The details of the house have been enclosed and the seller's details have also been provided. The house has been in the possession of the owner for the subsequent five days and the possession shall be transferred to me after preapprovals of IRS.
Please suggest more if any deficiency is found. I can be contacted at +1-[X]. I shall be grateful if you approve my request and respond at your earliest availability.
Thank you.
Regards
David Goodwill
P-9083 PIC Town, Orlando
Florida, USA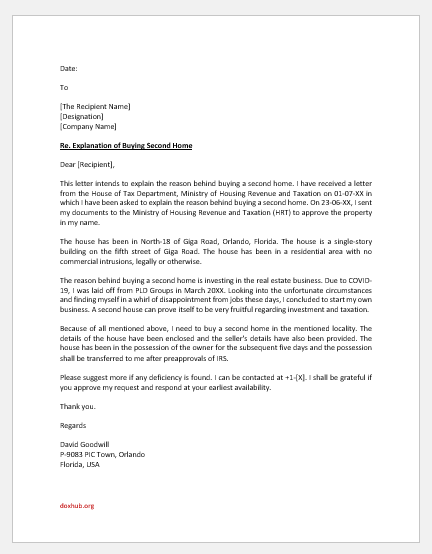 2-
Re. Explanation of Second Home Purchase
Dear Sir/Madam,
I am Richard Stephen from Daniel Tower APA, Fort Worth. I have submitted my application for the approval of the second house in Asheville to the Asheville Department of House Regulatory and Land Revenue (HRLR) on 23-06-XX. On 5th July 20XX, I received an IRS letter of inquiry to explain the cause behind buying a second house despite possessing 126 Sq. ft house in North Fort Worth. The following details are jotted to explain the reason behind buying a second home.
First, I want to buy a retirement house in the hilly areas of Asheville. I plan to shift to the house after getting retired from this city life full of haste and rush. I am getting over 50 and I believe this is the best time to plan for my retirement life.
Secondly, the house is in one of the hubs of tourist destinations in the US. This will generate income for me to pay back the loan applied for the house from Bank of Western Bridge (documents enclosed). In this way, the second house will be my future goal and income source.
There has not been found any restraint in this purchase and location of the house by IRS North Carolina. In consideration of that, I request you to approve my request and deprive any impediment in this case.
For more, I can be contacted at +1-[X] or write to me at [EMAIL]. All the required documents have already been submitted with application no. 45-HSD on 23-06-XX. Copies of the documents related to the bank loan have been currently enclosed. Thank you.
Regards
Richard Johnson
G-9012 Daniel Tower APA, Fort Worth
Texas, USA