1-
Re. Resignation to be Effective from [DATE]
Dear Sir, I am [NAME], the [POST] in the [COMPANY NAME]. I have been working in this organization since 20xx and on [DATE], I completed my X years of working here. I joined the organization as a […], later, in 20xx, I was promoted to the rank of ST-X as a […]. Through this letter, I want to convey my resignation from the post of […]. The reason behind this unpleasant decision is the callousness of the administration, poor employees' policies, and breaching various rules of the company's policies.
Sir, I have worked here for X years. It has been a wonderful experience working here. I learned a lot of new skills and added much to my knowledge. Working here provided me opportunities to learn under the guidance of professional and well-experienced members of the company.
On [DATE], there were made a few disciplinary and non-disciplinary changes in the internal unit of the company. The administrative changes have troubled a lot of employees as the new administration made unnecessary changes in the policies of the company that is central to the company's shareholders and do not benefit the employees in any way.
The administration has been callous to the employees and has not been able to work on the implementation of effective policies. Therefore, I understand it has been getting out of my temperament. To not create any problematic circumstances, I have decided to resign and leave the office on good terms. I shall be grateful to you if provide me with the remaining dues and other monetary benefits according to the Employees' Resignation Policy-99. Thank you.
Regards
[Name]
[Position]
[Company]
[Date]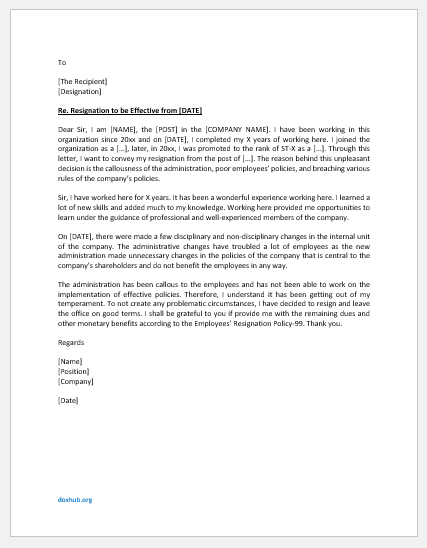 2-
Re. The resignation on the Account of Unpleasant Circumstances
Dear Sir,
With all reverence, I am submitting my resignation on the account of some undesirable and unpleasant circumstances. I have been working in this company as a […] since 20xx. After completing my X years of working here, I found that the sudden changes in the departmental changes in the company in the department of [DEPARTMENT NAME] have caused disruption in the work.
Working in this company has given me extensive experience and a wide range of new skills. I have developed a great skill set and instrumented a lot of my talent capsules into practice. Afterward, I had to decide on the resignation after seeing a lot of disruption in the departmental working. There has not been any strict partition between the working lines and it bears a lot of interference between the working of different departmental working lines.
On the account of the above-mentioned conflicts and disruption, I have decided to resign from the workplace as a […]. My designation would be effective immediately and I will not be coming to the office from tomorrow i.e. [DATE]. I request you to pay all my remaining dues till [DATE] or let me know if I need to follow another process for the recovery of the remaining dues. Thank you.
Regards,