Official Certificates
Scout certificates are awarded to members in various scouting programs. These are usually for children. The programs are held as a summer camp for both boys and girls separately. As these little scouts learn various skills and exhibit their expertise, they are awarded various certificates. There is Gold Award for the highest achievers while Silver and Bronze Awards are given out to individuals showing the next best performance. All these awards are in the form of certificates.
Similarly, there are certificates for commendable performance at various activities held at the scout camp. Therefore, the content as well as the design of each type of scout certificate varies. It is best to use a template in order to design all the various types. It saves an appreciable amount of time. In addition, much less effort is required as compared to designing from scratch. The template provides a framework to begin with. First of all, start with the name of the award for which a particular certificate is being designed. Next follows the name of the receiver as well as other important information.
Once you are done with the content, focus on the visual design. The main format can be the same for all types of scout certificates. However, you can create a visual difference by modifying the font styles and colors. Similarly, you can choose a different frame or border for each certificate. Any relevant figures or pictures can also be added. In this way, many scout certificates can be designed easily.
Preview & Details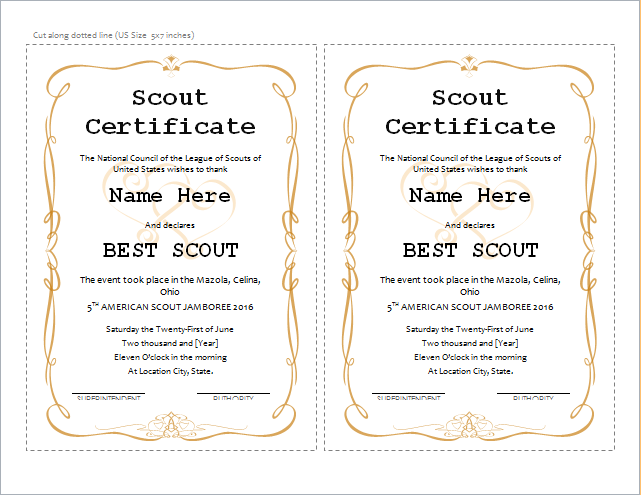 Scout Certificate Template
File Size: 136 KB mobile [Android+iOS] & iPad
Download Word (.doc) 2007 & 2007+