(1)
I, Mark Middelton, the HR manager, am writing this letter to lure your attention to a serious concern in the company. We have been noticing a change in the dress code of some of our employees which does not relate to the company policies. Skyrocket Solutions is a top-notch professional company that houses only those employees who abide by the rules and regulations of the company. Any employee lacking professional conduct or displays an uninterest in abiding by the ethical protocols will not be entertained by us.
We value our employees and are concerned for their well-being. The company has very accommodating values when it comes to catering to the employees' needs and requirements. Nevertheless, in no way, we will adapt to the amoral and unprincipled demeanor of our workers.
We have observed a few employees in different departments coming to work in very casual and upsetting clothing that do not go well with the professional dress code. We have previously warned the concerned individuals of their behavior but to our shock, it did not change. Therefore, we must write this notice to all the employees.
From immediate effect, any employee not considering the dress code, as explained in the policy book, will be fined a hefty amount. Moreover, repetition can lead to strict disciplinary measures.
We will appreciate your prompt collaboration. In case of any queries or questions, feel free to visit my Office during official work hours.
Sincerely,
Mark Middleton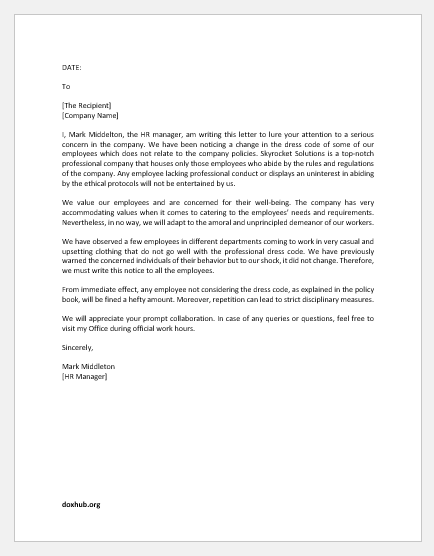 (2)
Respectful All,
As you already know, Your Next Milestone is rapidly growing into one of the leading companies in the city in the sales and marketing niche. More publicity brings forth bigger responsibility and a sense of decorum. Previously, we were not into the mainstream and thus things were a bit loose as our policies and protocols were neither harsh nor required our employees to strictly abide by them.
Nevertheless, the more exposure we are getting, the more the quality of our clients is increasing. Hence, it is becoming more and more important to take our company environment seriously. Now, we should create an atmosphere in our company that confirms our professionalism and promise. Therefore, Your Next Milestone is introducing a new dress code for all its employees of all departments that you are compliant to exhibit.
From now onwards, only dress shirts and dress pants, of any color, are allowed for men to be worn inside the premises of the company building. Our female employees can also wear skirts. Employees should complain to their HR manager if they witness any disobedience to this rule.
This new order will be implemented with immediate effect. No leverage or leniency will be shown to the employees not following the policies. You will be given a verbal warning only once and a careless attitude or lack of respect for our terms and conditions will lead to disciplinary action.
We appreciate your cooperation and expect to see a positive response to this.
Sincerely,
HR Manager
See more…