Auction Bid Sheets
Every business has set rules and criteria that one needs to follow actively in order to turn things their way. Though Silent Bid Auctions may not be regarded as simple business as it has many other details behind its implication. Mostly, the auction bids are held for fundraising for charitable organizations and are efficacious as no place is especially allotted and the bidding is done in a silent way which helps to make the most of the items being displayed by the individual who is responsible for setting up silent bidding auction templates. As silently as they are distributed to people who are thought to be in the capacity to bid well, as silently are they collected.
A few important things that need care are the items that are to be listed along with the donors who also play a vital and a crucial role in the bidding auction sheet. The items must be worthy of bidding and the donors must be well known. While describing the worth of the items, we must also write about the donors, giving them enough appreciation and dignity. Another thing that must be done with attention is setting up of the templates. There are many ways in which they can be put up. After filling these lists, they can be provided to the bidders preferably through emails. As it is held without an auctioneer, it is carried without the noisy atmosphere that is build up in normal bidding.
The bidders can also bid thoughtfully for a good purpose behind this auction. It can also serve another purpose that is, it will help keep the identity of the bidders a secure; those who do not want to expose themselves for any particular reasons. Bidding like these are no doubt supportive and help to run charitable organizations that are helping to bring good changes in the society, looking after the needs of those who are unable to support themselves.
Preview & Details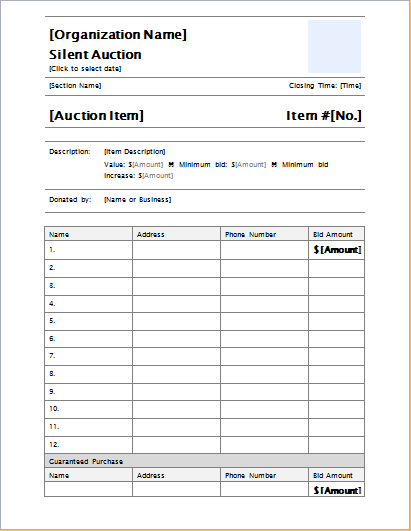 SILENT AUCTION BID SHEET TEMPLATE
File Size: 45 KB mobile [Android+iOS] & iPad
Download Word (.doc) 2007 & 2007+
File Size: 19 KB
Download OpenOffice Writer (.odt)