Income Estimation & Reports
In an organization, various employees are working that are receiving a set income from the company for the work that they do for the company or for the services that they provide to the organization. This income is given to them on the basis of their skills, their education, their seniority, their grade and many other factors that help in gauging and determining the income of an employee. On an annual basis, an organization sets to make changes to the income of an individual (in a positive manner) to ensure that that employee is given compensation that he/she deserves.
Before all of this process, an income of an employee is estimated by professionals and experts via a number of formulas, processes and through the use of various tools. After the estimation has been done, an income estimation report is drafted which tells in detail the findings of the experts, their recommendations and information about the data that they have found out during the course of findings.
An income estimation report is not just limited to present findings but is a way of gauging and knowing what the income of an employee should be in the near future along with if the organization is willing to pay that much money or if the organization would be able to pay the employee that much in the near future. This income estimation report gives an organization a better idea of what its employees are expecting and what they truly deserve.
Preview & Details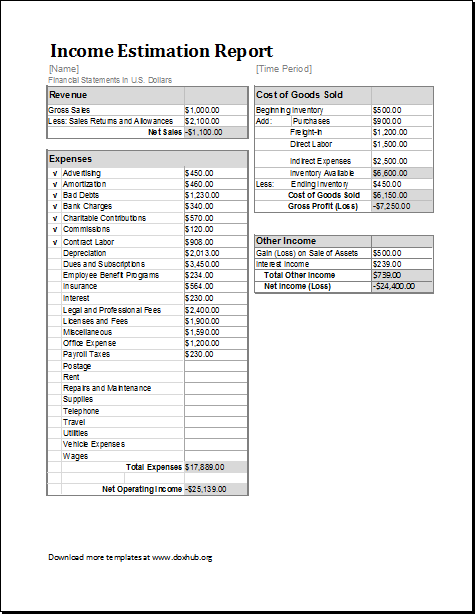 Income Estimation Report Template
File Size: 124 KB mobile [Android+iOS] & iPad
Download Excel (.xls) 2007 & 2007+